Bear Cubs football delivers beat down against Sequoias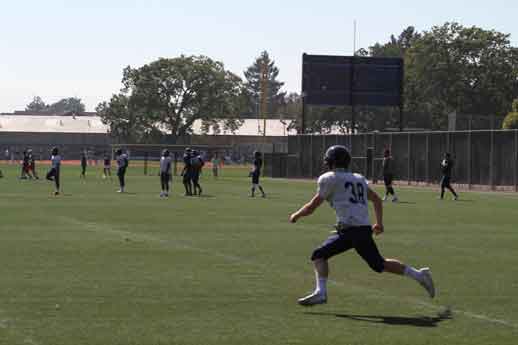 The Santa Rosa Junior College football team came away with a dominating 44-0 win against Sequoias College, improving its record to 3-2.
"This was a huge win for us and will be a momentum game as we head into the gauntlet of conference play," said head coach Lenny Wagner.
Starting quarterback Vincent Jefferies has been playing at a very high level throughout the last few games and continued to play well against Sequoias College. He will need to keep playing well for the team to win the upcoming conference games. Jefferies threw for 291 yards, two touchdowns and completed 25-34 passes.
"He is progressing very well and had his best overall game against Sequoias," Wagner said.
Not only was the Bear Cubs' passing game on point, they also ran the ball better than any game so far this season. With a season-high of 152 rushing yards, their run game is starting to flourish due to improvements with their running backs and offensive line.
"We are a very young team and our RBs and OL are still working out the timing of many of our plays," Wagner said. "I am very pleased to see them getting better each week. We are going to need a solid run attack for conference play."
The offense was firing on all cylinders against Sequoias, but it was the defense that helped the Bear Cubs control the game and allow the offense to acquire so many chances to score.
Coaches expect a lot out of their defense each week, but it isn't everyday a team gets to lockup a shutout win. The Bear Cubs' defense logged one sack and six tackles for a loss, totaling 32 yards, while forcing two fumbles and collecting an interception.
"Our defense made the stops on third and fourth down. They played with a real sense of urgency the entire game. One of the big accomplishments was that many backups were in the game for the entire fourth quarter and they didn't miss a beat," Wagner said. There were times when Sequoias would start moving the ball a little and the starters were eager to go back in to preserve the shut out, but we kept the backups in and they came through with flying colors and big plays."
With a 44-0 win, the Bear Cubs have gained much needed confidence going into the second half of their season. The remainder of the Bear Cubs' season is against all conference teams and will be the most important games on their schedule this year.
The Bear Cubs next game is at 5pm Oct. 17 at home against San Mateo College.