Bear Cubs come up short against Delta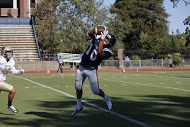 The SRJC Bear Cubs football team started the season with a disappointing loss to the Delta College Mustangs. While the 27-17
affair was closer than the final score indicated, the Mustangs proved themselves the superior team over 60 minutes.
Bear Cubs second-string quarterback Mitch Hood took most of the snaps during the game, finishing 16 for 29 with one
touchdown as well as a costly interception. Freshman running back Ja'Narrick James, a former Redwood Empire player of the
year, had a memorable debut performance, finishing with 109 yards from scrimmage. The Bear Cubs offense totaled 318 yards,
often putting together long drives before stalling in the red zone.
"This opening night performance was disappointing for us," said James. "It showed us that no matter how talented you are as a
team, you can't win without playing with discipline. Penalties killed us tonight."
Leave a Comment