SRJC baseball loses momentum in series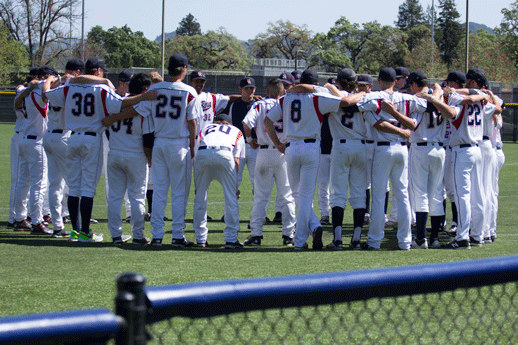 With its six-game winning streak on the line, the Santa Rosa Junior College baseball team faced Consumnes River College in a three game series, March 31_April 4.
In the first game, catcher Ryan Haug continued his torrid streak at the plate, connecting for four hits,three RBIs and scoring four times.
Bear Cubs ace Garrett Hill described Haug as one of the hardest working players he has everseen, someone who expects nothing but the best from himself and is always striving to improve.
The Bear Cubs took an early 8-1 lead, fueled by RBI singles from Jake Scheiner and Bryan Weston, before the CRC offense broke through with a four-run fourth to make it 8-5.
CRC had all the momentum, and looked like it might pull of a comeback for the ages, but it was not to be. Bear Cubs pitcher Evan Hill came on in relief and delivered a dominant performance, retiring 11 straight batters before finally giving up a hit. He effectively took the air out of a CRC dugout that had begun to believe it had a chance to steal a win.
Assistant coach Tom Francois called Hill's performance huge, saying, "Evan is always one of our best guys out of the bullpen; someone who always seems to want the ball. Pitcher Garrett Hill added, "the fact that he was able to come in and shut them down was huge because it allowed us to take back the games' momentum."
In the April 2 game, the Bear Cubs lost a close game on the road. The game was scoreless until the teams traded runs in the second inning. The game remained tied until CRC scored the tie-breaking run in the bottom of the eighth inning, ending the Bear Cubs seven-game winning streak.
The April 4 game was a low-scoring affair, with CRC once again breaking through late to hand the Bear Cubs second consecutive loss.
SRJC sits at 18-9, with a 7-5 conference record.
The Bear Cubs next game is at 2:30 p.m. against American River College in Sacramento.