Halfway home, Bear Cubs look to make push into playoffs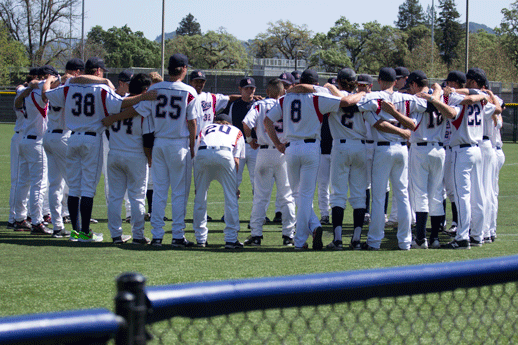 As the baseball season hits the halfway point, the Bear Cubs look to keep the momentum as playoffs approach, starting May 1.
The Bear Cubs have an overall record of 18-9 and a 7-5 Big 8 Conference record, which currently has them ranked second in the Big 8.
"I honesty believed this was going to be a transition year, but Damon has a way of knitting these guys together with hard work and repetition," said assistant coach Tom Francois.
Santa Rosa Junior College struggled at the beginning of conference play with three straight losses against undefeated San Joaquin Delta, but bounced back with two series sweeps against Sacramento City and Diablo Valley College.
"We had a good preseason, but a rough start to the beginning of the Big 8 Conference," said catcher Ryan Haug. But we have bounced back and really fought as a team."
The offense stepped up once conference play began, averaging nearly six runs per game.
"We, as hitters, need to keep improving on getting better at timely hitting," Haug said. "Which is fitting for runs and just flat-out keep hitting the ball hard."
Haug has been vital to the offense this season, with a team-leading .377 batting average, .500 on-base percentage and 29 hits. Weston Bryan, Mitchell West, Jake Scheiner and Zach Hall helped fuel a productive offense for SRJC.
Pitcher Garrett Hill has taken charge in the rotation; SRJC has a combined 2.68 ERA. Hill has a team-leading .66 ERA, 31 strikeouts and 41 innings pitched. Alec Rennard, Dustin Oliver, Evan Hill and Kyle Mitchell combined with Garrett Hill in a starting rotation that has provided the Bear Cubs with many quality starts.
"I think we have to get mentally tougher; that would be the biggest improvement," Garrett Hill said. "We definitely have the talent to do well and go far in the playoffs, and win state."
Throughout the season, the defense has made solid plays, committing just 27 errors in 25 games. The team has a .973 fielding percentage.
To make the playoffs, the Bear Cubs need to win more series, like those against Sacramento City and Diablo Valley. "We got to continue to grow and compete one game at a time and one pitch at a time," Haug said. "It's about winning series. We control our own destiny, so we just need to keep playing as a team and win series anyway we can."
The Bear Cubs will attempt to sweep another three-game series when they play American River College April 7-11.