From injury to triumph, SRJC Ice Hockey player shows true heart of a champion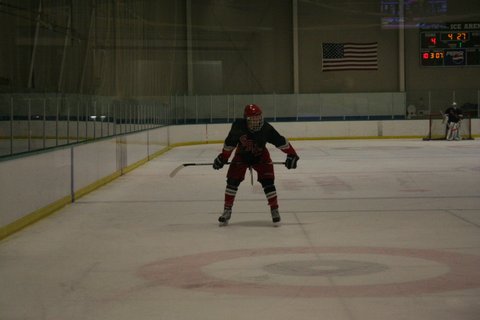 In South Lake Tahoe, Santa Rosa Junior College Polar Bear hockey defenseman Niklis Nisja suffered a knee injury Sept. 6 during the second preseason game of the year against Tahoe Blue. The injury required reconstructive knee surgery. Since then, his return to hockey has been a triumphant one.
During the game, Nisja was unnecessarily hit by a Tahoe Blue player that sent him down on the ice. He immediately tried to get up and hurry back into play, not knowing he was hurt at first, but quickly realized he couldn't because of the pain in his knee.
"I tried to pop up like it was just another hit, but when I couldn't do that I knew it was bad," Nisja said. "In my head I thought, 'Why can't I get up? What's wrong?"'
Nisja received the news later that week that he would have to endure reconstructive knee surgery. The doctor said he wouldn't be able to get back on the ice until the middle of March 2015.
"I was in shock, because I've never been out for a long time like that," Nisja said.
Hearing all of this bad news could have brought down any young athlete, let alone a first-year college hockey player, but this only fueled Nisja's fire and made him desire the game he loves to play even more. "Once I got past the shock [of the injury status], I thought, 'what's it going to take to get back out there,''' Nisja said.
Head coach Mike Kovanis thought the worst when he heard the news. "When the injury happened and we learned the severity of it, I thought his season was lost for sure, but he made up his mind that he would do rehab and try everything possible to get back on the ice for the second semester," Kovanis said.
Hockey is Nisja's life, and he wanted to do whatever it took to get back on the ice and play again. "Hockey's a drug and it's addictive," he said.
Nisja made it his goal to get back on the ice before the expected return date of March 24. With the help of constant rehab and physical therapy, he was able to take baby steps to achieve his goal. Nisja needed hockey back in his life. Without it he was having major withdrawals and missed the sport he's played for so long. "Not being able to play hockey for that long was not good at all, I really needed to hit someone," he said.
Polar Bears defenseman Eric Zagacki saw Nisja work hard to get back onto the ice. "He showed up for practices to start working out again as soon as his doctor gave him clearance to skate, even though he wouldn't be able to play in any games for a while."
With hard work and determination, Nisja beat the odds and returned Jan. 17 against Stanford University. This was two months earlier than doctors believed he would.  "It was the best feeling ever," Nisja said.
He even scored a goal in his first game back. Nisja's resilience and belief in getting back out there as fast as he could helped him recover and return quickly.
"He showed tremendous resolve and determination to get himself back to not only just walking again, but playing competitive collegiate ice hockey way ahead of schedule," coach Kovanis said.
Not only did Nisja return, he played a big role in helping SRJC capture its third straight PCHA championship.
Nisja played solid defense for the squad, with a few key blocked shots in the championship game. "Nik's return was a big boost for us as we were very short on defensemen for the second semester; he was able to come in and contribute right away for us there," Kovanis said. "To come back from injury and then fill in a position of need for us, rather than where he had been playing earlier this season was huge."
Ironically enough, the championship game took place against UC Davis on the same ice where the injury occurred. Although his first experience was not great there, he made his next trip memorable by capturing a championship.
With this injury Nisja was able to learn a lot about himself, hockey and life. "You just have to never give up and know there's going to be hills and valleys," Nisja said.