Swim and dive: state finals is the goal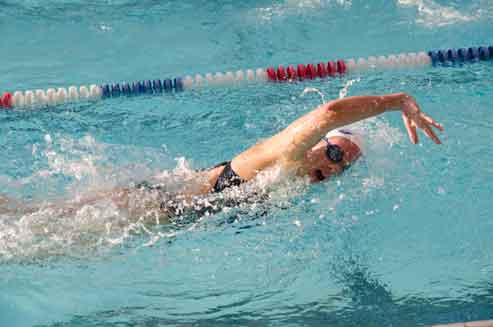 The Santa Rosa Junior College men's and women's swim and dive teams are looking forward to another great season with some key returning members, as they hope to return to the state finals.
"I am aiming for the school records in the 200 and 100 backstroke and the 400- individual medley," said returning swimmer Crabb. "As a captain this year though, I feel the team's goals are definitely set on becoming Big 8 Conference Champions and trying to qualify as many swimmers as we can for state."
Also returning is freestyler Tom Franicevich from Petaluma.
"Returning this season is really quite a blessing for me," Franicevich said. "This past summer I was pretty close to having serious cancer in my pancreas and liver and had a large surgery on my liver that kept me out of the pool for pretty much the whole summer."
Franicevich also hopes to achieve personal new best times and reach John Bing's 100-freestyle record of 45.13 seconds.
All-American Miranda Howell, is back for the women's swim and dive.
"This season is going to be very exciting," Howell said. "Our team will do really well at Cuesta and Big 8's."
The men placed second at the Big 8 Championship meet. Bing was honored Big 8 Male Swimmer and Performance of the Meet.
The women's team won its first Big 8 Conference title since 2009.
Head coach Jill McCormick believes the changing of the strength-conditioning program will help the teams get back to success at state.
The Bear Cubs open their season in the NorCal Relays Invitational at 11 a.m. Feb. 7 at the SRJC Quinn Aquatic Complex Outdoor Pool.