Polar Bears upset Boise State University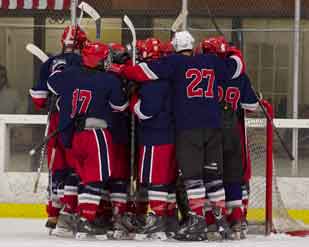 The Santa Rosa Junior College Polar Bears slid onto the ice Jan. 22 to face a fourth ranked American Collegiate Hockey Association Division 2 powerhouse in Boise State University, and readily handed the Broncos their first loss since Sept. 27, breaking a 20-1 win streak and defeating BSU 5-2.
Like a game of speed chess, with sticks, pads and a puck, the Polar Bears knew the game would be decided by fielding lines to countermove against BSU's. "We tried to match up his[Josiah Nikkel] line with their top line, and also try to get him out against a weaker line," head coach Mike Kovanis said.
Goalie Dominic Jones anchored the match pirouetting like a ballerina, spinning around his crease, knocking the puck away for a total of 19 saves on the evening. Jones was three minutes away from completing a shutout before finally allowing a puck past a crack in his wall.
"It's all a team effort basically," Jones said. "I can't score any goals so I just try to give my team the best chance for winning. I was just trying to rebound control."
The game opened with each team spending an equal amount of time harassing each other's goalies until nine-and-a half minutes in Nikkel broke the score board silence putting the Polar Bears up 1-0. Nikkel stole the puck from BSU's defender in the neutral zone, and proceeded to skate like he stole it, winding through the retreating BSU defenders to shoot while sliding on one knee towards the BSU net.
"I honestly didn't know what to expect, how good the other team was going to be," Nikkel said," but we were just acting like it was one of the best teams that we are going to play in the US."
Despite not capitalizing on back-to-back power plays to end the first period, the Polar Bears took the lead into the second.
The second period opened with a flurry, and with just one minute gone, Nikkel scored his second goal of the evening to put SRJC up 2-0.
Six minutes later, on a fast break, a leading pass from Eric Zagaki into BSU's zone connected with newcomer Nick Harris. Harris fired a slap shot from the wing, zipping the puck past BSU's netminder for his first Polar Bear score.
"Seeing the new guys just doing work. They were playing awesome," Nikkel continued. "Especially to come into a league and your second game is against a D2 team, I gotta give it up to them."
Kovanis noted that getting the early lead they were able to generate momentum and confidence. The Polar Bears rode that momentum leading to two more scores in the third, a sweet slapper by Josh Greenwell, and Steve Wolmarans with a beautiful slicing charge through BSU's defense to a one-on-one past the net minder's stickside.
"It was a fun game," Jones said. "Being a D3 team and beating a D2 team, that's pretty up there. It brings up the confidence level for sure."
Which is a good thing for the Polar Bears. Every game left in the season is a must win for SRJC to make it into the playoffs. It will face off against division rival UC Davis Jan. 30, away in Vacaville, and the next night against San Francisco State University in Oakland.
The following week is the end of the regular season and the Polar Bears will travel to San Jose to battle long time nemesis San Jose State University's D2 team Feb. 6. The next night is the final game, and last home game of the regular season against SJSU's D3 team at Snoopy's Home Ice. The puck drops at 8:30 p.m. and admission is free.