Women's basketball slowly recovering from first-half slump; league play ahead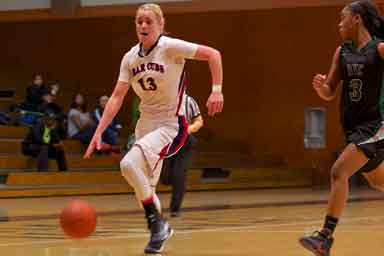 The Bear Cubs women's basketball team is 8-10 after a win on Jan. 16 against Sacramento City College; the team's defense held off a late run for a 57-55 win. Although Santa Rosa Junior College gave away a big lead with turnovers, the team showed signs of improvement, especially the defense.
"Our defense played well until the last two minutes," said head coach Lacey Campbell.
The team suffered some early season struggles that will be hard to overcome, but SRJC seems to be up for the challenge with most of the league schedule ahead.
"We played a tough schedule so far, even though we played well in them. We lost some, which hurt our confidence," Campbell said.
The beginning of the season was loaded with a tough schedule where the team fell behind early. The Bear Cubs went a less than impressive 4-7 in December, creating a hole for themselves going into league play, but the team stays optimistic.
"We are a new team and we have a lot of heart, sometimes too much, but to be successful we are going to play with confidence," said freshman guard Jenna Dunbar.
The Bear Cubs are coming into a part of their schedule where the team has four out of six games at home in Haehl Pavilion. Home games are a must win for the Bear Cubs, who need to assert their home-floor advantage and win in front of their own fans.
Dunbar is leading the Bear Cubs in many of the statistical categories, as well as being a floor leader. Dunbar has expressed the team's desire to play hard every night for the rest of the season.
"We are going to bring it Tuesday and every night after that," she said.
Currently Dunbar leads the way in scoring and rebounding, averaging 13.3 points and 5.9 rebounds a game. Sophomore point guard Taylor Graham leads the team in assists, averaging 3.5 set ups a game. While defensively it's been a team effort, sophomore guard Alicia Mehtlan has had a big impact on the game averaging 1.1 steals and a block a game.
The Bear Cubs have big games against Diablo Valley College, Cosumnes College, Modesto College and San Joaquin Delta College in the next two weeks. "We are taking it one game at a time," Campbell said. "We will fight every game."
Their next home game is this Tuesday at 5:30 p.m. at Haehl Pavilion against  Cosumnes River College.