SRJC hockey semester finale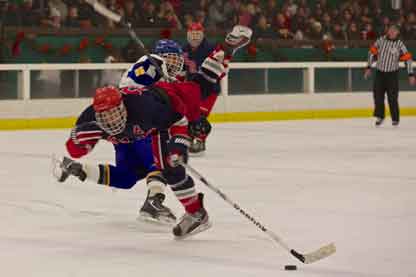 Hang on for a minute...we're trying to find some more stories you might like.
The Polar Bears skated to a tie against San Jose State University's Div. II squad Dec. 6 at Snoopy's Home Ice. Having faced SJSU the previous night on SJSU's home ice, and losing 5-3, both teams knew exactly what to expect when the puck dropped in Santa Rosa.
The first period opened like a tug of war despite SRJC missing five players to poor grades and injuries. Both teams exchanged time with the puck in each other's zones, but it wasn't until 11:32 passed before the first penalty was called.
San Jose went into the box first, but the Polar Bears found themselves in back-to-back-to-back penalty kill situations, even skating five-on-three for one kill.
The PK line held fast, and regardless of SJSU's team size and players, the first period ended with zeroes on the board for both squads.
It would take almost 30 minutes of ice time before either goalie would allow anything into their nets. San Jose struck first, but four minutes later Blake Johnson, off a sweet touch pass and rush to the net from Josiah Nikkel, SRJC evened the score at 1.
San Jose was extremely aggressive in the second period, putting twice as many shots on goal as Santa Rosa, but both teams skated clean as far as the score sheet is concerned, having only three penalties between both squads in the second period. Period two ended with the score still tied.
The third period began and SJSU's frustration started to become more apparent at what seemed like a sense of entitlement playing a team in a lower division that they beat the previous evening.
SJSU accumulated 10 penalties in the third, including five game misconducts and one disqualification for head contact, to SRJC's one.
As the one-minute mark was reached, over the PA, announcer Jacob Fitzpatrick informed the rink "One minute remaining in the period." Just 18 seconds later, in a breakdown of defense, SJSU slipped the puck past Dominic Jones to go ahead 2-1.
With 10.2 seconds left in the game Nikkel took a face-off for Santa Rosa in SJSU's zone. Winning the face-off, and a quick touch to Johnson, then back to Nikkel for a shot from the right. Nikkel then tied the game with 1.1 seconds left on the clock.
The crowd and bench erupted with roars of excitement, but the game went to a five-minute overtime period, which ended in a scoreless tie.
Despite SJSU sneaking a puck past Jones in the following shootout, the shootout was just for the fans. Division III play ends after the overtime period.
"I'm pretty happy with the resolve of the guys to rally and not put their heads down," said head coach Mike Kovanis. "They stayed motivated and realized they had time to get it done, and pulled it off."
The Polar Bears have one more away game in Oakland against SFSU before the holidays.
Be sure to look for UNLV and Boise State's Division II teams coming to Snoopy's in the third week of January next semester.