Splashing through success: Bear Cubs get third place at State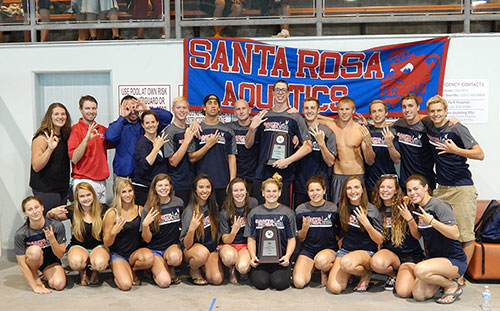 The Santa Rosa Junior College swim and dive team took third place overall at the State Championships which took place on May 1-3, following the team's success at the Big 8 Championships.

In the women's division, Miranda Howell became a two-time individual state champion with record-breaking times in the 50-yard backstroke with a time of 26.21 and 100-yard backstroke with a time of 56.48. Howell broke the Big 8 Championships' records in those events just two weeks ago.

"I was pretty nervous because I wasn't sure how the competition would be and I didn't have an idea of what the atmosphere was going to be like," Howell said. "I had no idea I could re-break both of mine. It made me feel like I accomplished more than I ever thought I could. It has been an amazing experience."

In the men's division, John Bing continued his dominance when he won the 50-yard freestyle event with a time of 20.62. Bing finished third in the 100-yard breaststroke, and his first leg of the 400-yard free relay set a new school record for 100 yards with a time of 45.35. Also, Sophomore Andrew Hays finished in the top eight in three events: the 200-meter individual relay, the 100-yard butterfly and third in the 200-yard backstroke.

Out of the 13 meets, both the men's and women's teams did not finish below third place. The team took third overall at the state level. "I'm really proud of both my guys and my girls because right after Big 8's we all got really sick and we weren't sure if we were going to come back and do well, but Jill brought us back to health, and we thought 'we can do this'. I couldn't have asked for a better team this year," Howell said.

Head coach Jill McCormick is proud of both the men's and women's teams, and looks back at all their hard work.

"The relays and the overall strength of performance for all of our swimmers and divers," McCormick said. "We had nice leadership from our sophomores who have had experience swimming. Our freshmen showed up big time as well and performed when the stakes were high."

McCormick is also appreciative of her coaching staff.

"My coaching staff is phenomenal and did an amazing job all year," McCormick said.