Bear Cubs are Big 8 Champions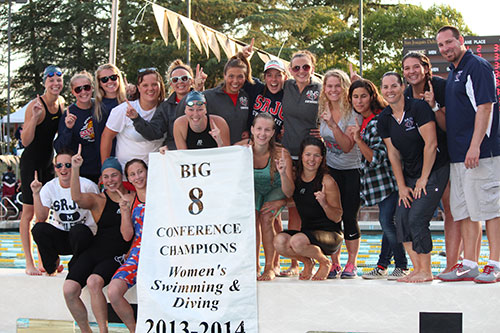 The Santa Rosa Junior College swim team took first place with 1,499 points in the 2014 Big 8 Conference Championships last weekend in Stockton at San Joaquin Delta College.
SRJC did not disappoint and was well-represented with 43 swimmers in total.
The women's swim and dive team took the championship, edging out second place Diablo Valley College by 133 points. The combined team also took first place, again winning by a slim 2 percent margin over Diablo Valley College.
"We were extremely lucky to have a lot of depth this year," said SRJC swimmer Allison Straus. "The combination of hard training, talent, and depth is what led us to win championships."
SRJC's John Bing was named Big 8 Swimmer of the Year. Bing also took first place in the men's 50-yard freestyle event with a Big 8 record-setting time of 20.62.
After participating in the 2012 State Championships, Bing now waits for a surprise in this year's championships. "I don't have a lot of expectations going into the meet," Bing said.
Bing also took first place in the men's 100-yard breaststroke with an impressive time of 55.68, a sizable gap from second place and another Big 8 conference record.
SRJC's Morgan Baldwin placed eighth in the event.
Miranda Howell also set a Big 8 and SRJC record in the women's 50-yard backstroke with a time of 26.54, and the 100-yard backstroke with a time of 56.63. This is a major accomplishment after suffering an injury that forced her to sit out for a year.
Right now, Howell revels in how far she and her team have come this season. "Overall I think we've done really well and I'm really proud of all my teammates," Howell said.
SRJC had five other individual Big 8 Champions. Santa Rosa dominated in the relay portion of the competition as well. Ashley Boyle, Miranda Howell, Megan Warren and Erin Sullivan took first place in the women's 800-yard free relay with a time of 7:55:29.
With head coach Jill McCormick named Women's Coach of the Year, swimmers like Straus are not only grateful for their teamwork, but also for a hard-working coaching staff. "Our team and coaching staff worked really hard in and out of the season, so it's awesome to see all that hard work pay off," Straus said.