Courageous Bear Cubs earn bowl bid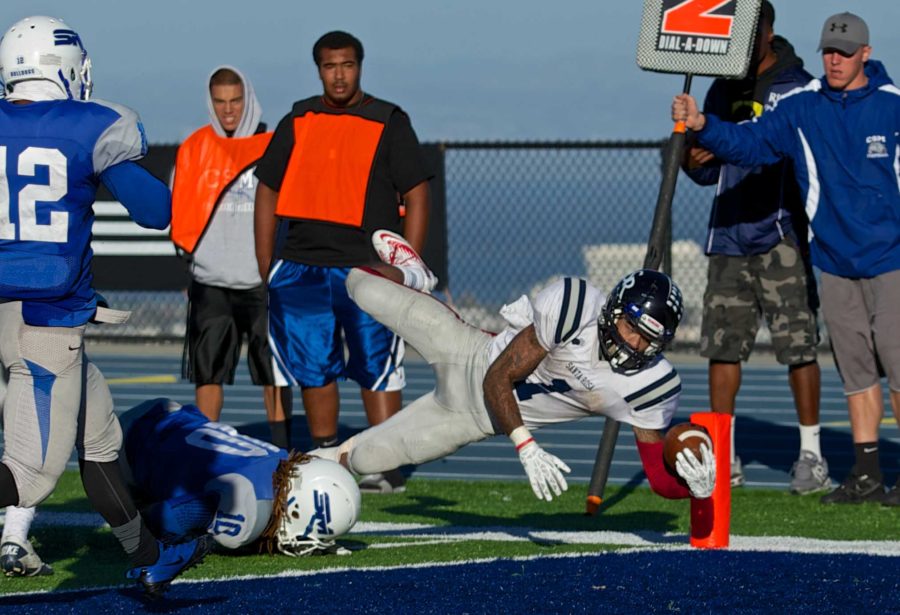 Santa Rosa Junior College Bear Cubs football, seemingly halved in size and inundated with injuries from before the 2013 season even started, took the field for one more regular season game Nov. 16 in San Mateo against 8-1 powerhouse College of San Mateo.
San Mateo has one of the best teams in the country in a conference where every point scored is a war scratched, clawed and gutted out in the trenches of the gridiron. The players were once referred to as "warriors of the gridiron."
San Mateo is both a large and highly ranked team, with tremendously sized players to match. The Bear Cubs, heading into the game at 6-3 overall and 2-2 in conference play, knew it was going to be a battle at every phase of the game.
CSM kicked off the ball, and the game, poorly. The kick was short and trailed out of bounds for a penalty. With decent field position the Bear Cubs ended their first possession with a three and out culminating in punt.
The CSM punt returner gave great field position for San Mateo and they proceeded to drive the subsequent 41 yards ending in a 1-yard touchdown run and the first score of the game with just 3:20 gone in the first quarter.
The Bear Cubs came out swinging, but couldn't connect all the dots to  maintain forward progress.
One highlight for the Bear Cubs came in the second quarter when down fourth and fourteen, the Bear Cubs decided to go for it. After the first down and an explosion of a 25-yard run by Damen Jones, SRJC had a first and goal on the three-yard line with 1:51 left. David Sowards connected to Andre Davis for a TD. The following PAT was blocked and with 1:43 left the score was CSM 27, SRJC 6.
CSM then proceeded to run a two-minute drill, burning every time out they had in an attempt to score.
"One play at a time," head coach Lenny Wagner said during the half time break.
"It takes a lot of courage to go out there, to go back out there," Wagner said of his players.
The Bear Cubs finished Wagner's first season with an overall record of 6-4, good enough for a bowl bid. SRJC's football team will square off against Modesto in the Golden Valley Bowl 3 p.m. Nov. 23 at their home Bailey Field in Santa Rosa.