Bear Cubs Football Dominates Season Opener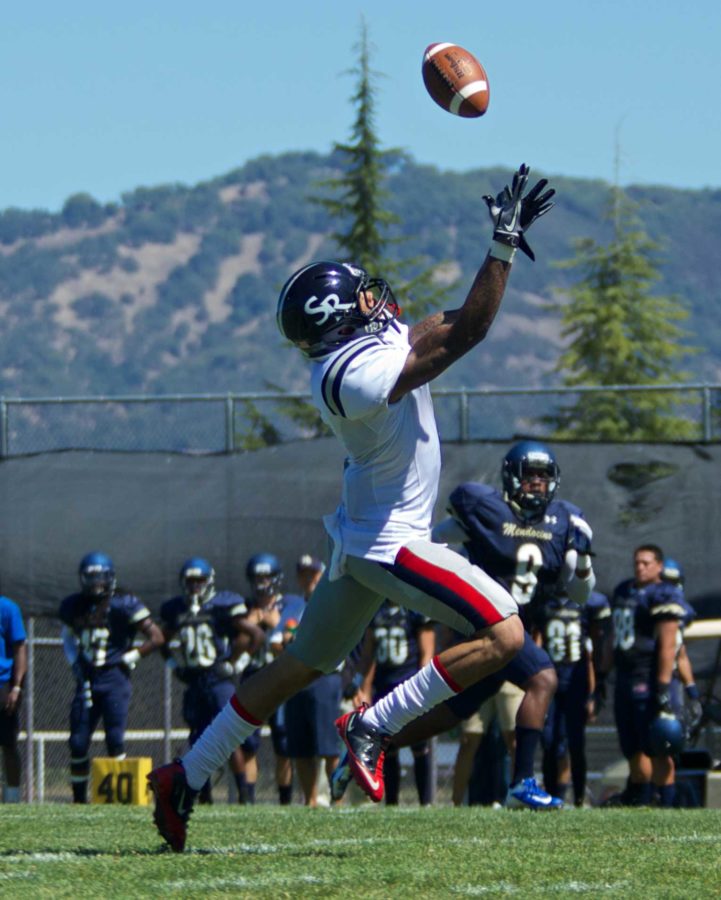 Under new head coach Lenny Wagner the Bear Cubs opened the new season like a blast from a cannon, crushing Mendocino College in a barrage of superior offensive and defensive play winning by a score of 54-7.
The score was an impressive 48-0 at the half and most of the starters cycled out by the end of the first quarter allowing most of the squad to enjoy valuable early-season game time.
Andre Davis, 19, an SRJC sophomore from Baltimore, Md., caught the only receiving touchdown of the afternoon during the first quarter. Airmailed to Davis from sophomore quarterback David Sowards, the pass was a soaring spiral over the shoulder. It was a fingertip-grasping catch resulting in a 75-yard score.
"We are tired of hitting each other. New coaching staff, new uniforms, we are all excited about the whole event," Davis said.
Coach Wagner and his young men were ready to play and said he "really wanted to win." Wagner, who coached Mendocino College from 1998-1999 has fond memories of Ukiah and Mendocino College. "It has a special place in my heart and feels like a homecoming," he said.
"It's not often you get to make the kind of mistakes we did and not suffer for them," Wagner said. He pointed out that the team prepared for its first game as if it were any of the opponents they will face this season. They were prepared. Only traveling with five offensive lineman, one of whom converted  from a tight end to center, the Bear Cubs rushed for five touchdowns and succeeded in not giving up a single sack.
Leading up to the game, coach Wagner planned on informing his team about his former coaching tenure with Mendocino before the game to pump them up.
"I used to be the coach at Mendocino, but I'm not planning on telling the guys until the game," Wagner said. "I know Mendocino's best all-time record is 9-1, as long as they are playing Santa Rosa, it is going to stay that way."
The defense scored its own two touchdowns and finished out the day with six take-aways. One touchdown was a fumble-recovery for a 27-yard return in the first quarter by Taylor Biaggi and the other a 32-yard interception by Raevon Smith, returned for a touchdown in the third quarter.
The team looks to improve with game film to process, observe, learn from and reflect upon before the Bear Cub's next game.
The first home game of the season is at 7 p.m. Sept. 13, at SRJC's Bailey Field.