Men's and Women's Basketball Playoff Bound: Both teams finish first place in the Big 8 Conference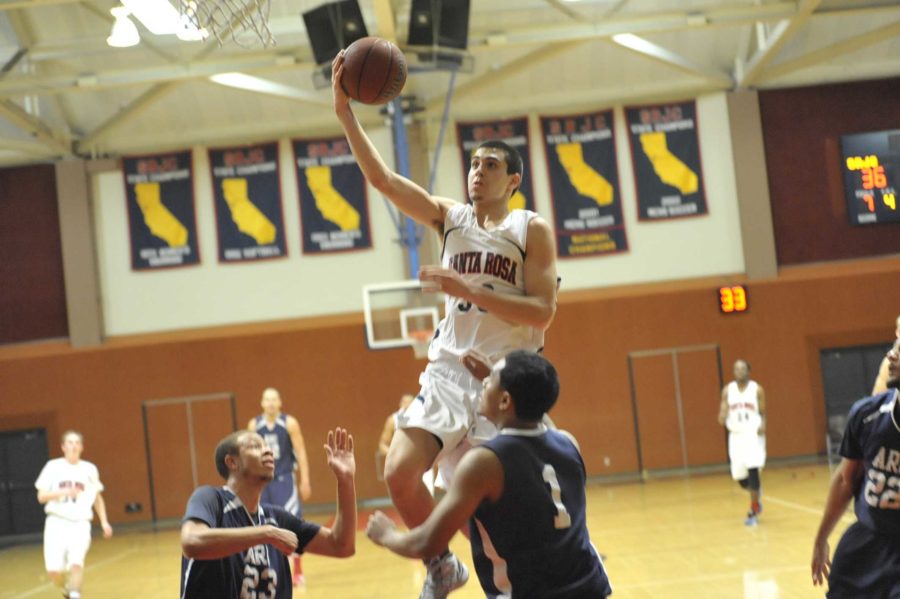 The SRJC women's basketball team heads to the playoffs after ending its regular season with a 60-42 win over Consumes River Friday night in Sacramento.
SRJC boasts an overall record of 24-6 and 12-2 in the Big 8 conference finish, which ties the team for first in conference play.
Although the team has just four days to prepare for their first playoff game, its expectations are high for the post-season.
"Ultimately in the end we want to make it to the State Championship, but we need to take it one game at a time," said sophomore center McKenzie Mangino.
When asked if the team will prepare differently for the playoffs, Mangino said, "Before each game we used to make five goals. But now starting for playoffs, we will only pick one goal and really focus on that."
The Bear Cubs are a consistently strong team, winning a state championship in their 2010-11 season and an overall record of 24-7 and 13-1 in conference during their 2011-12 season.
They can attribute much of their success to head coach Lacy Campbell, who started coaching at SRJC in 2004. Last season Campbell recieved the Big 8 Conference Coach of the Year award for the fourth straight season. Campbell also won the Northern California Coach of the Year award in her 2009-10 and 2010-11 seasons.
"Sometimes we do feel some pressure because our coach believes we have a lot of potential and we don't want to disappoint," Mangino said.
After an impressive regular season, the Bear Cubs continue to be an aggressive and talented team as they head into the post-season.
The men's basketball team is in a similar position heading into the playoffs.
They hold the number one seed in the Big 8 conference after winning their season matchup.
Both teams look for state championship victories in the upcoming playoffs.