Women's soccer ready to defend title with new coach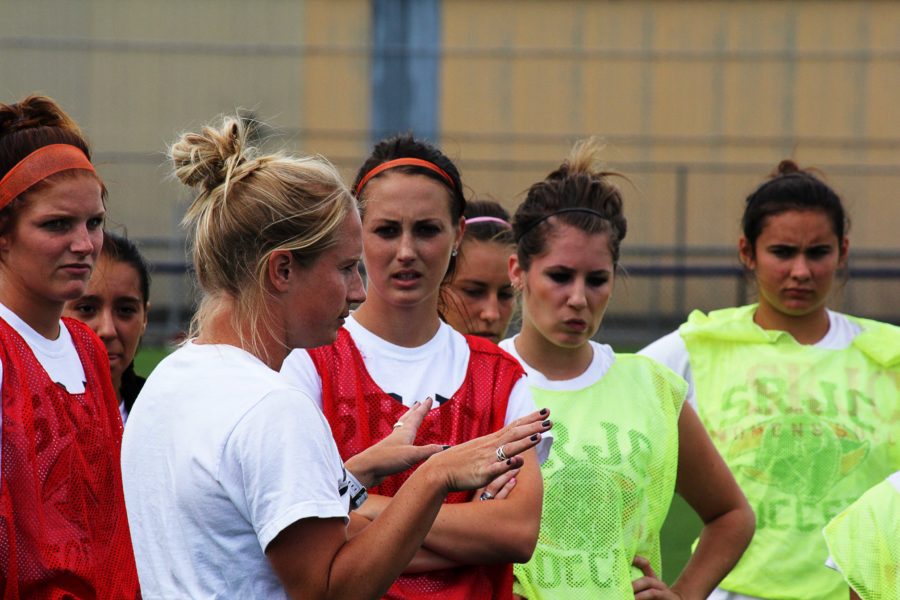 Alex Campbell, Staff Writer
September 11, 2012
Passion.
That is the word that stands out when talking to Tracy Hamm, the newest addition to the SRJC coaching staff. Hamm was a standout player at Cal Berkeley where she was awarded the Pac-10 academic honorable mention three times. Actually, anything Hamm talks about is driven by a fiery passion.
Whether playing, coaching soccer or discussing personal hobbies such as Bikram Yoga and hiking, the self- proclaimed fitness guru's enthusiasm and excitement shine through.
After college, Hamm played soccer for professional teams including the Santa Clara FC Gold Pride, and served as assistant coach at her alma mater for one year before leaving to play professionally for the Atlanta Beat.
When Hamm's professional playing career ended, she received her master's degree in sports psychology in 2011 from Boston College and was eager to get back into coaching.
"I was doing random jobs like coaching and camps while checking online for openings like the NCAA website until I stumbled across the SRJC position," Hamm said.
Hamm is ready to bring her experience and leadership to the Bear Cub family. During training camp this summer the squad began with double- days from day one.
"It was awesome! We had a really great training camp," Hamm said. "They have been running their butts off and getting fit. It's pretty demanding so far but I think they've handled it really well."
Last year's women's soccer coach Luke Oberkirch guided the team to a state title with the help of a few great players who have moved on. Laura and Cara Curtain, along with goalkeeper
Tara Funk, played key roles for the championship team and all three are currently playing at Sonoma State.
"I have 26 on my roster right now and 11 returners, it's a new team," Hamm said. "I think we're going to do very good. We have great incoming players and the returners are going to have a big role."
At the community college level there is often a dramatic change in the roster due to transfers and fresh crops of high school graduates.
Laura Fenton, an All- Empire second team selection at Ursuline High School red-shirted last season after breaking her leg summer 2011. She rebounded strong during the summer and is now the team captain.
An important part of last year's team, especially in the playoff run was Kareli Rodriguez, also an All-Empire selection in high school when she played for Montgomery.
"Kareli Rodriguez is playing forward and she is going to score a lot of goals for us," Hamm said.
One freshman that may have an early impact is forward Hollie Depina from St. Helena. "I think Hollie and Kareli are going to be very good together," Hamm said.
Taking over the reins at goalkeeper this season is former Casa Grande standout Ashley Luis, who played in the field last season for the Bear Cubs. Funk was one of the top keepers in the state last season with only 12 goals allowed in 2,010 minutes played and will be difficult to replace but Luis should be up to the challenge.
While playing at Casa Grande Luis was selected All-League first team goalkeeper in the Sonoma County League Conference. "Luis is a great goalie and she wants to play after SRJC and I think she can," Hamm said.
Luis may benefit from Hamm's connections in the soccer world. The new assistant coach is former Santa Rosa High School and Cal Berkeley goalkeeper Gina Pellegrini.
Pellegrini was an elite goalkeeper during her time at Cal (2006-09) and is tied for fifth all-time in career shutouts with 15. "Our keeper can definitely learn a lot from Pellegrini such as the tricks of the trade," Hamm said. "It's huge having her with us, especially because she's from the area."
Hamm has lined up some stiff competition for the pre-conference schedule and will gauge her team's
progress based on how they perform. The schedule includes scrimmages with Chico State who battled into the final four last year for Division II and Los Angeles club, Fram FC, which is comprised of many players who will play Division I soccer.
"Women's soccer is the biggest sport for females in our country and the best thing people can do is come support us. The pro league failed because we didn't have enough support for it," Hamm said. "Just do anything you can to come out and be proud of the team. They won state last year and with fan support I think we can do it again."
Bear Cub fans will have a chance to see the team in action during a three game pre-conference home stand. The Bear Cub women play Napa Valley College at 1 p.m. Sept. 14.