"¡Nos sirven!" Los estudiantes de SRJC lideran la huelga de inmigración
Hang on for a minute...we're trying to find some more stories you might like.
Estudiantes y miembros de la comunidad marcharon por derechos de inmigración desde Santa Rosa Junior College hasta el Ayuntamiento de Santa Rosa ayer y exigieron un proyecto de ley de Acción Diferida para los Llegados en la Infancia (DACA) que permitirá a los Dreamers extender su estatus de protección temporal (TPS).
La administración de Trump reveló sus planes para retrasar las renovaciones de DACA en septiembre al establecer una fecha límite del 5 de marzo para que Dreamers renueve su TPS. En enero, un juez de la corte de apelaciones del Noveno Distrito dictaminó que los esfuerzos de la Administración Trump para terminar con DACA violaban la Ley de Procedimientos Administrativos.
El programa de la era de Obama permitió a los niños nacidos de padres indocumentados en los Estados Unidos tener TPS, con el requisito de tener que renovarlo cada dos años.
La huelga por la reforma migratoria comenzó a las 11 a. m. En el patio principal del campus de SRJC en Mendocino Avenue. Líderes comunitarios como Rafael Vásquez ofrecieron apoyo a ciudadanos indocumentados y entregaron folletos con abogados de inmigración de confianza a los espectadores.
"Nos estamos uniendo porque creemos en la equidad, creemos que las familias no deben separarse y porque creemos que todos tienen derecho a salir a ganarse la vida y mantener a sus familias", dijo Vásquez.
Más de mil personas marcharon desde SRJC a Courthouse Square y luego al Ayuntamiento con letreros que decían: "Los soñadores serán deportados. ¿Qué vas a hacer? "Y" Educación no deportación ".
Un participante, Julio Cesar Molina, de 31 años, habló sobre cómo el miedo a perder TPS ha sacudido a las comunidades de North Bay. Es por eso que se unió a un grupo de defensa llamado Rapid Response Network.
El grupo monitorea la inmigración e informa cuando es posible que ocurran redadas y donde se planifiquen. Si los miembros ven a ICE, pueden informar a una línea directa que opera las 24 horas, los 7 días de la semana.
"Alguien en su idioma responderá", dijo Molina, y señaló que la organización tiene más de 400 voluntarios. "Algunos son nacidos en Estados Unidos, otros son hispanos que se unen para este proyecto".
Molina dijo que tienen miembros con experiencia en el cumplimiento de la ley que los ayudan a comprender mejor el sistema legal y a lidiar con ICE de manera más eficiente.
Si el jefe de familia es deportado, la organización proporciona a la familia el último cheque de sueldo, además de alimentos, asistencia legal y ayuda financiera.
En el Edificio Federal en la Avenida Sonoma, los representantes estudiantiles hicieron demandas a través de un megáfono, pidiendo una Ley de Sueño limpia que les da a los estudiantes de DACA una solución permanente a su situación migratoria que incluye un camino hacia la ciudadanía. Quieren que el Congreso apruebe el Dream Act sin ninguna condición adicional contra los inmigrantes que perjudique a sus familias y las comunidades.
Los manifestantes aplaudieron las demandas y se burlaron de los comentarios ensayados por un actor que interpreta a la Senadora Dianne Feinstein, gritando "¡Tú nos sirves! ¡Tú nos sirves!
Héctor Jiménez, presidente de MEChA (Movimiento Estudiantil Chicano de Aztlán), de 21 años, discutió cómo una mayor presencia de funcionarios de inmigración podría afectar directamente a su propia familia.
"Yo mismo soy indocumentado, y he vivido toda mi vida aquí", dijo. "Siento que definitivamente contribuí a la sociedad y a mi comunidad. Mis hermanos están muy enfermos. Ambos tienen una enfermedad cardíaca y, lamentablemente, si mis padres fueran deportados y nos encontráramos en México, me temo que mis hermanos no recibirán la atención que necesitan".
Alexia Carrillo, vicepresidenta de defensa de SGA, habló en la marcha.
"Algunas personas en los Estados Unidos siguen siendo ignorantes y no entienden por qué la gente viene a este país", dijo. "No entienden que tienen que dejar a sus hijos". La gente no quiere dejar su patria, su cultura, su idioma y sus familias".
El padre de Carrillo fue deportado a México en 2012, lo que hace que este tema sea muy personal.
"No soy indocumentado, pero soy una de las personas que se separó de su familia", dijo Carrillo mientras se limpiaba las lágrimas. "Es por eso que continúo haciendo el trabajo que hago ahora". Estoy aquí hoy para abogar por la voz de mi padre, pero también por cada uno de los 11 millones de individuos indocumentados aquí en los Estados Unidos".
Traducido por Jose Gonzalez (Spanish Editor)
About the Writers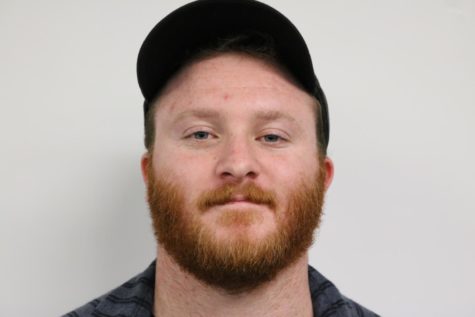 Dylan Kerzin, Staff Writer
Dylan is studying journalism at the JC and will transfer to Evergreen State College in Fall 2018. He specializes in news writing for the Oak Leaf.