Review: Dave's Hot Chicken
Dave's Hot Chicken | 2240 Mendocino Ave. #C-1, Santa Rosa | 707-582-2200 | All main entrees under $14
4 of 5 Oak Leaves
Signature Dishes
Heavily seasoned large chicken tenders with bread, tender sliders and seasoned fries
Review
The first Dave's Hot Chicken in northern California has been an immediate success due to word of mouth about the popular chicken-focused chain ahead of its Sept. 23 opening. The chain has locations scattered throughout the United States, including several in southern California.
My first time eating at Dave's Hot Chicken, less than a mile from Santa Rosa Junior College's main campus, was five days after it opened.  The line stretched far out the door, as it would during peak hours for the first week or so.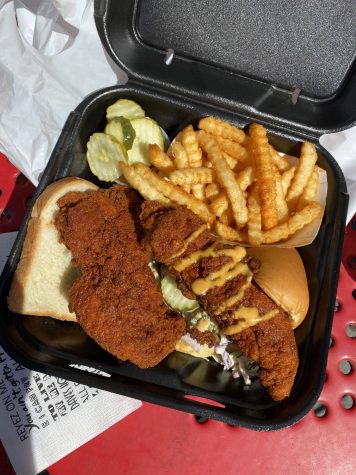 Going through the line, waiting for and ultimately receiving my order was a smooth and impressively quick experience — a great first impression. Despite a line of about 30 people, my total wait time was only about 35 minutes. When I went again a couple weeks later, the wait time was less than five minutes with only two people in line.
The menu is simple and features three combo options which are all permutations of Dave's three main dishes: sliders, seasoned fries and big, heavily seasoned chicken tenders. Each of these combos is served with the house Dave's sauce, which has become one of my personal favorite dipping sauces. It has a great sweet flavor, but isn't overwhelming, and it perfectly compliments both the chicken and the fries. It's also much better than similar sauces such as Chick-fil-A's signature sauce.
Another important part of the menu is not one, two or three, but seven total spice levels to choose from, a range that easily covers all customers' spice desires. The levels are as follows, in ascending order of heat: No Spice, Lite Mild, Mild, Medium, Hot, Extra Hot and Reaper, which I dare not go anywhere near. If that's your thing, it's absolutely an option. I personally tried both Mild and Medium, and both are solid middle of the road options. Spice is nice, but not when it makes the food more uncomfortable than enjoyable to eat, and personally Medium treaded that line well. Mild is also a good option, and likely the most popular, as its inoffensive level of spice is still noticeable in the flavor.
All of the main menu items have fantastic flavor and blend well together. Each giant tender is served with a simple piece of white bread and pickles, and it works best to wrap the tender in the bread and place two or three pickles inside, essentially making a sandwich.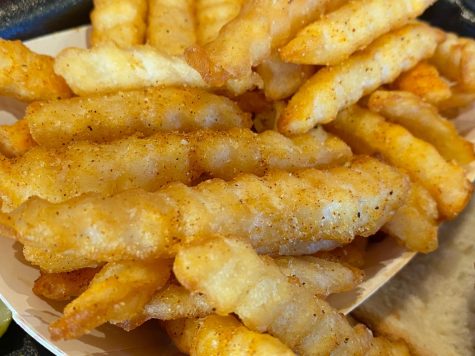 One main complaint some have about the tenders is they are overwhelmingly flavored like chili powder. While much of the flavor comes from this, even in the lower spice levels, it is certainly not the only flavor, and it isn't enough to be an actual issue. The tenders are fried and have a wonderfully perfect crunch. Combined with a bite of pickle, some Dave's sauce and bread or a bun, each bite is an enjoyable burst of flavor.
Sliders come with kale slaw, which can also be ordered separately as a side, as well as pickles and a bun. Cheese is optional. The tenders with the bread and pickles are more enjoyable, but the sliders are a bit more put together.
Good fries are tasty without a dipping sauce, and Dave's seasoned fries work great plain but are even better with Dave's sauce. The seasoning blend is wonderful and the main reason that the fries feel like a more significant part of the meal than they are at other restaurants. For those seeking a heavier option, there are cheese fries.
Each combo, which costs around $12-13, left me completely full and unable to finish everything. The same amount of food and a drink can cost $5 more next door at Five Guys.
Dave's Hot Chicken is a welcome addition to the myriad of food options located close to SRJC's Santa Rosa campus. The menu is simple and priced well, and each option is equally enjoyable. The food isn't perfect but is consistent, tasty and absolutely worth a try.
The Breakdown
| Category | What were we looking for? | Score out of 5 |
| --- | --- | --- |
| Packaging | Neat? Sustainable? Did they remember cutlery? Napkins? Condiments? | 5 |
| Hygiene | Was clerk wearing gloves? A mask? Both? Neither? What were the pick up and waiting areas like? Clean/neat? | 5 |
| Portion size | Was it filling or were you left wanting more? | 5 |
| Quality of Food | Freshness, quality of ingredients | 4 |
| Tastiness of Food | Flavor, spice and texture | 5 |
| Customer Service | Friendliness, responsiveness | 4 |
| Overall Rating | With 5 being a perfect score, this restaurant rated: | 4 |