Review: Aloh-O Poke & Tea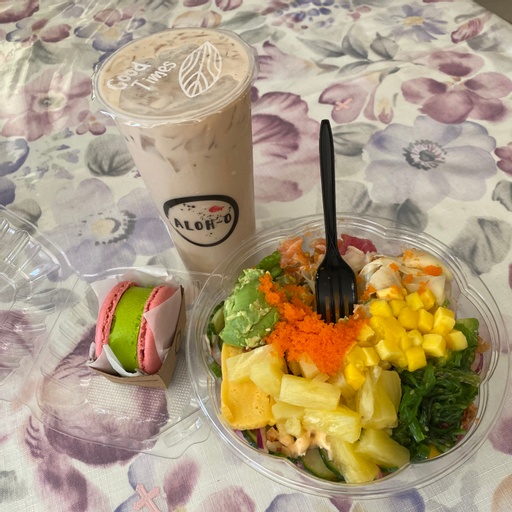 Aloh-O | 1367 N McDowell Blvd, Suite #130, Petaluma | (707) 665-5356 | Most entrees under $15
5 of 5 Oak Leaves
Signature Dishes
Poke bowls, milk tea, flavored tea and macaroon ice cream sandwiches.
Review
The healthy and hearty poke bowls, irresistible milk tea and delicate macaroon ice cream sandwiches will bring me back to Aloh-O, a counter service poke and tea shop about a 6 minute drive from the Petaluma campus.
The poke bowl is packed full with a variety of flavors and colors appealing to the belly and the eyes. The poke bowl costs $12.95 for the standard portion of the base, sauce, protein and toppings. For the price, it is definitely worth it.
Packed with salmon, tuna, the original (spicy) sauce, and all the topping options available, each bite delivers something different.
Best served cold, the abundance of toppings starts the journey into a flavor adventure. The top layer has avocado, masago (fish roe), seaweed salad, pineapple, mango, tamago (sweet egg omelette), and pickled ginger. The mix of sweet, acidic and salty bite-sized pieces blends surprisingly well together, with synergistic flavors that last as long as itsfork-ful of food.
The adventure down the poke bowl brings more tastes and textures. The ginger-flavored sauce and spicy mayo seep into the rest of the toppings: crispy onion, red onion, green onion, edamame, corn, tofu, jalapeño and cucumbers. The fresh and sauce-laden tuna and salmon, along with crisp lettuce and jasmine rice gives the bowl a desired heartiness.
The sauce balances the flavors of each morsel without overpowering each individual ingredient. The only let down was the sauce's spiciness which doesn't deliver an expected kick.
The house milk tea is smooth, light and creamy, yet not overwhelmingly sweet. It is hard to put down after the first sip. This is sure to be the new go-to milk tea shop in Petaluma. 
The macaroon ice cream cookie sandwich with green tea ice cream is a delightful ending to any meal. The green tea ice cream is distinct, and simultaneously earthy and creamy. The cookies are soft enough to bite but don't crumble after the first bite which creates a solid ice cream sandwich and perfect ending to my meal
The Breakdown
| Category | What were we looking for? | Score out of 5 |
| --- | --- | --- |
| Packaging | Neat? Sustainable? Did they remember cutlery? Napkins? Condiments? | 5 |
| Hygiene | Was clerk wearing gloves? A mask? Both? Neither? What were the pick up and waiting areas like? Clean/neat? | 5 |
| Speed and accuracy | Food was on counter ready for pickup | 5 |
| Portion size | Was it filling or were you left wanting more? | 5 |
| Leftovers | Were there leftovers and, if so, did they reheat well? | 5 |
| Quality of Food | Freshness, quality of ingredients | 5 |
| Tastiness of Food | Flavor, spice and texture | 4 |
| Customer Service | Friendliness, responsiveness | 5 |
| Overall Rating | With 5 being a perfect score, this restaurant rated: | 5 |