Review: Vitality Bowl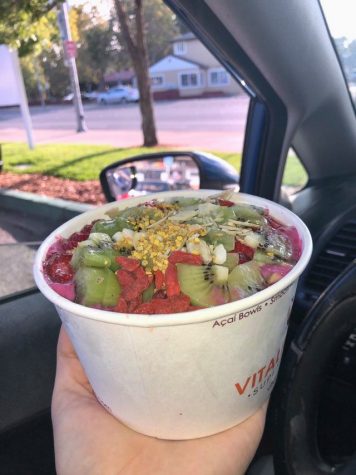 Finding a restaurant with quality vegan and vegetarian meals can be difficult, but Vitality Bowl in Santa Rosa lives up to expectations.
Vitality Bowl specializes in making acai bowls, a smoothie-type blend of fruits and vegetables with additional toppings that can range from more fruit to honey or granola. The clerks are friendly, offer speedy service and make sure each dish looks as beautiful as possible before consumption. 
Upon arrival — or in this case, upon looking at the website —there's a variety of options from Vitality bowls, smoothies, salads, and paninis. Looking at the menu can be intimidating with 13 bowl options to choose from but a knowledgeable clerk advised first timers should try the Vitality bowl or the Dragon Bowl. 
The bowls come in medium and large sizes, but these bowls are big and a medium will fully satisfy an appetite if the large bowl is too much. The bowls do come with set ingredients but additional toppings such as honey, bee pollen, hemp seeds or cacao nibs can be added to give a bowl an extra touch.
The Dragon Bowl is a very healthy entree that provides a tropical explosion in the mouth upon the first bite. 
The Dragon Bowl base is a mixture of blended pineapple, banana, pitaya, and raspberries — a tropical smoothie explosion. The base leaves a smooth and creamy texture in the mouth that is similar to fro-yo but much healthier. The toppings of strawberries, kiwi, almonds, organic goji berries, bee pollen and honey all help to set this bowl apart from the other 12 contenders making it the NO.1 dish. 
The cubed kiwis and succulent strawberries create a crispness in texture that contrasts with the base, allowing for refreshing bites that replenish the organs. Thinly sliced almonds rest atop the fruit drizzled in bee pollen and honey, making for the perfect balance of sweet and salty for anyone who enjoys contrasting flavors or enjoys sweet and salty cravings. Finally, the organic goji berries give it an extra boost in texture and provide a chewy consistency that sticks to the teeth. These little berries provide an additional sweet flavor with a caramel-like consistency that adds another layer of texture and flair
The beauty of these bowls is that they are able to satisfy multiple cravings and can be used for either dessert or lunch, but both have the added health benefits that leave the eater unapologetically stuffed. These bowls range from $13-$15 depending on the size and the extra adding of toppings, but this price is worth the amount of food. 
In Santa Rosa, there is only one vitality Bowl and the next is several hours away in Mill Valley so this restaurant is definitely worth exploring at least once. The 10-minute wait is well worth the fruity payoff.   
Vitality Bowl is located at 1880 Mendocino Ave, STE G, Santa Rosa CA 95401 from 10 A.M.-8 P.M. Monday through Sunday. 
| | | |
| --- | --- | --- |
| Category | What were we looking for? | Score out of 5-5.5/5 |
| Packaging | Neat? Sustainable? Did they remember cutlery? Napkins? Condiments? | 5 |
| Hygiene | Was clerk wearing gloves? A mask? Both? Neither? What were the pick up and waiting areas like? Clean/neat? | 5 |
| Speed and accuracy | Food was on counter ready for pickup | 5 |
| Portion size | Was it filling or were you left wanting more? | 5.5 |
| Leftovers | Were there leftovers and, if so, did they reheat well? | 5 |
| Quality of Food | Freshness, quality of ingredients | 5.5 |
| Tastiness of Food | Flavor, spice and texture | 5 |
| Customer Service | Friendliness, responsiveness | 5 |
| Overall Rating | With 5 being a perfect score, this restaurant rated: | 5 |