Review: Lemongrass Thai Cuisine
Lemongrass Thai Cuisine | 109 N McDowell Blvd., Petaluma | (707) 789-9777 | Most entrees under $15
4 of 5 Oak Leaves
Signature Dishes
Pad Thai, Chicken Satay, Pad See Ew, Pumpkin Curry
Review
Lemongrass Thai Cuisine is one of two Thai restaurants in Petaluma owned by the same family. Lemongrass Thai Cuisine is in the same shopping center as Trader Joe's; Lemongrass Thai Noodle is in downtown Petaluma. The restaurants have different web sites and phone numbers.
Overall, the portions are generous and can be spread over two meals. The ingredients are fresh, diverse and high quality. The most impressive part of the meal is how perfectly the vegetables are cooked — crisp, but soft enough to chew and never limp.
The pumpkin curry combines kabosha squash, carrots and green beans in a curry red sauce. Although it is not categorized as a soup on the menu, the pumpkin curry comes in a bowl and needs to be eaten with a spoon. For all practical purposes, that's a soup. It's made with coconut milk and is creamy and spicy. The vegetables are just the right balance of soft and crispy. The flavors complement each other perfectly: a little spicy, a little sweet, a little umami. If you only order one dish, order the pumpkin curry.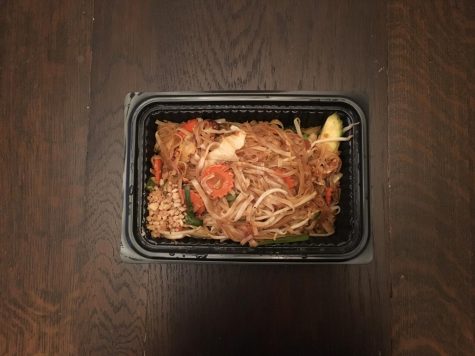 Pad thai is Thai cuisine's answer to comfort food. It's made with rice noodles in pad thai sauce, stir-fried with egg, green onion, beansprout and peanut. Of course it's yummy; it's hard to go wrong with a sweet and salty carbohydrate. But what makes this dish so tasty is also what makes it too much to eat on its own. A Thai meal is meant to be eaten as small amounts of a few different dishes. This is especially true with pad thai, which is essentially a big plate of noodles. Order a vegetable dish or a curry with your pad thai to add more flavor, texture and nutrition.
The barbecue shrimp has a strong charcoal flavor. It is served atop a generous helping of lightly cooked broccoli and carrots. The shrimp has little flavor until you pour the accompanying sweet-and-sour sauce on it. This markedly improves the taste. The side salad is small and comprised of crisp, light-colored lettuce with a smattering of shredded carrot. Creamy vinaigrette is served on the side.
Service is quick and the meals are ready within 15 minutes of ordering. Everything tastes just as good when heated up for leftovers the next day.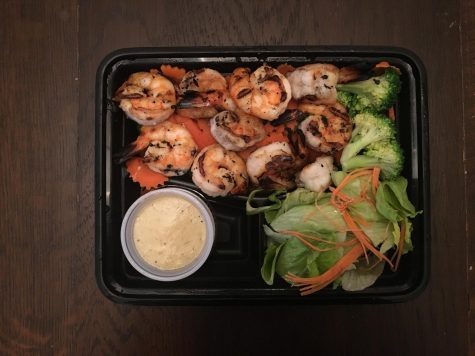 Lemongrass Thai's Cuisine takes sanitation seriously. Only one person works in the dining room, wears a mask and stands at least 20 feet from the entrance. Meals are packaged, ready to go and sitting on a table within a few feet of the front door. A sign reading "Customer pick-up food here" is on the table in large letters. Customers don't have to come anywhere near another person. For those who have to sign a credit card receipt, pens are available with one cup of sanitized pens and another cup for used pens. That small touch shows their attention to covid-19 safety procedures.
The only complaint is of the takeaway containers. They are made of heavy plastic that cannot be recycled and are not microwavable.
The Breakdown
Category
What were we looking for?
Score out of 5
Packaging
Neat? Sustainable? Did they remember cutlery? Napkins? Condiments?
2
Hygiene
Was clerk wearing gloves? A mask? Both? Neither? What were the pick up and waiting areas like? Clean/neat?
5
Speed and accuracy
Food was on counter ready for pickup
4
Portion size
Was it filling or were you left wanting more?
5
Leftovers
Were there leftovers and, if so, did they reheat well?
5
Quality of Food
Freshness, quality of ingredients
5
Tastiness of Food
Flavor, spice and texture
5
Customer Service
Friendliness, responsiveness
5
Overall Rating
With 5 being a perfect score, this restaurant rated:
4