Review: Kafal Restaurant
Kafal Restaurant | 535 Ross St, Santa Rosa | (707) 595-3311 | Most entrees under $20
4 of 5 Oak Leaves
Signature Dishes
Appetizer: samosa, spinach naan
Main dishes: tikka masala, tandoori chicken, veggie mo mo (dumplings), palak paneer, garlic naan
Drinks: mango lassi
Review
Kafal is a Nepalese restaurant that sits across the Santa Rosa Plaza mall on Ross Street. Nepalese food is similar to Indian with spicy curries, turmeric, flatbreads and rice but is generally less spicy and considered healthier with its own traditional dishes. With many options for vegans, it's a great downtown spot when often the only vegan food around is french fries.
The food arrives on time, an hour after ordering online. Take-out orders are packaged neatly in plastic containers, with the warm naan bread wrapped in foil and the veggie appetizer combo in a grease stained paper bag. There is an option online to disclude plastic utensils and napkins — a step toward sustainability and eco-friendly packaging.
The authentic tama aloo soup is hearty and flavorful, filled with black-eyed peas in a tomato base and adds a unique flavor with its crisp yet tender bamboo shoots. In addition, it's vegan, which makes this a personal favorite.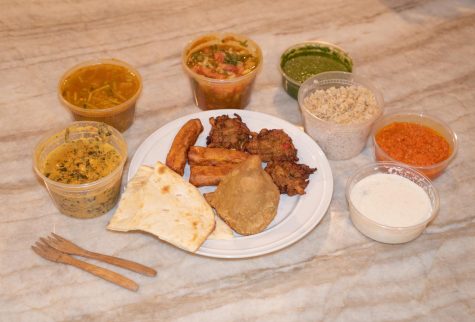 The palak paneer, listed under the restaurant's popular menu items, offers a rich and creamy spinach sauce with cubes of chhurpi, a traditional cheese consumed in the Himalayan region of Nepal and Tibet.
The chana masala entree is a rich dish of chickpeas and vegetables in a flavorful sauce with North Indian spices. Combined with basmati rice and naan bread, this is another tasty vegan meal.
For $2.99 Kafal provides an entire container of cilantro chutney or another condiment of choice. It is a great topping for the naan bread and can be added to just about everything. The fresh yet spicy chutney cuts through the rich entrees.
The homemade carrot pudding is the favorite dessert, although a bit too sweet for some samplers. The rice pudding, flavored with cardamom, tastes like a chai latte. While the flavor is a refreshing end to the meal, it is more of a runny soup with gritty rice than a pudding.
Kafal's flavorful vegan food is definitely something to order again.
The Breakdown
Category
What were we looking for?
Score out of 5
Packaging
Neat? Sustainable? Did they remember cutlery? Napkins? Condiments?
4
Hygiene
Was clerk wearing gloves? A mask? Both? Neither? What were the pick up and waiting areas like? Clean/neat?
5
Speed and accuracy
Food was on counter ready for pickup
5
Portion size
Was it filling or were you left wanting more?
5
Leftovers
Were there leftovers and, if so, did they reheat well?
5
Quality of Food
Freshness, quality of ingredients
4
Tastiness of Food
Flavor, spice and texture
4
Customer Service
Friendliness, responsiveness
5
Overall Rating
With 5 being a perfect score, this restaurant rated:
4