Adjusting to A New Change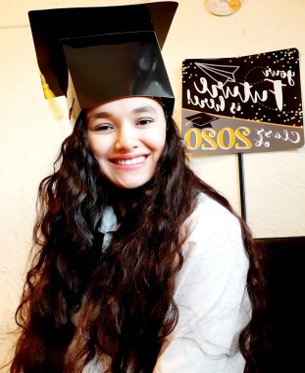 Marlene Zavala is from El Salvador and attends SRJC.
I've been looking forward to my ESL graduation since I started to learn English at Maxine Waters, a public school in Los Angeles in 2017. I can't forget my first teachers and their motivation. But because of the coronavirus the plans changed at Santa Rosa Junior College, the school where I am studying now.
A couple of years earlier when I started studying English I began wishing I would one day improve my English skills. I will have my ESL ceremony as the reward of my hard effort. It was my big dream, so I started to plan my education plan and began to organize some ideas that I had in mind about the ceremony. I  invited my little brother who lives in Salinas to come. I was very excited. But when  COVID-19 began seriously in California,  SRJC announced that we will continue taking classes online but not at college. I felt very sad, and I wished it weren't true.
Instead of continuing to think about the ceremony, I started to learn how to use Zoom to be able to continue taking classes. At first, it wasn't easy, and everything was new to me. However, I got support from teachers and classmates. I asked them many questions about homework and how to become more familiar with Zoom meetings. Sometimes I wondered myself if I could do it.
Now this semester is almost finished and I've been mentally prepared to attend the online ceremony. But I think it will be a little weird because I will wear my special dress at home, and I won't congratulate my colleagues personally. I will miss taking pictures of everyone.
However, all those wishes were cut short. I don't know when am I going to see my teachers and classmates again. The time with my classmates at college has gone. I will miss every moment there. Now I will say to my friends goodbye in a virtual way, but it has been the new change that I've experienced in my 2020 class.