Jack London and the bird call of the wild
As a full-contact journalist, I often find myself following in the footsteps of my "spirit animal," Jack London. At least, that is what I keep telling myself each time I move to a new city for a new job, but wind up homeless in the Abyss.
In 1903 Jack London, the Erik Jorgensen of his time, spent a month living in the slums of the city of London writing "The People of the Abyss." He bought ragged clothes at a secondhand shop, and sewed an emergency gold coin into his camouflaging vest. Years later George Orwell followed him into that same Abyss while writing his first book, "Down and Out in Paris and London."
Both of those literary giants, whose shoulders I pretend I'm standing on, spent a month living on the streets and writing about their experiences. So far, I'm on day 54 with no light visible at the end of this Abyss. Being homeless during a pandemic shutdown is a new twist on a familiar tale.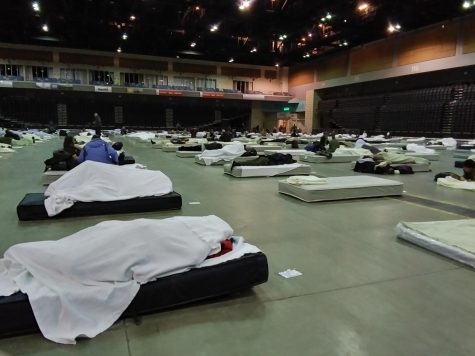 London wrote "The Scarlet Plague" about a pandemic spread globally by aeroplane, which he titled in tribute to Edgar Allen Poe's "Masque of the Red Death." Former Press Democrat photojournalist Frank Herbert, in turn, titled "The White Plague" after London's story. Both London and Herbert write of Glen Ellen as a haven for survivors.
In March I arrived in this new metropolis after writing for a smallville newspaper for the last three years. My goal moving here was to finish my journalism degree, but the shutdown changed everything.
Luckily, I have survived homelessness several times before and worked my way out of it each time, so my pandemic journal documents the ongoing changes I see and the rumors, rants and ramblings I hear.
While London's daily writing quota was a thousand words, I have finished 10 times that amount simply because there is nothing else to do, with the homeless shelter making us all leave between 7 a.m. and 8 p.m.
With the world as my writing desk, I found some cement steps by the river, out of the wind, where the river song guides my pen across the pages. I cast my bread on the water for the ducks, and a Canadian Goose eats from my hand.
One day a fluffy yellow gosling floated down the rapids and started circling a rock near me. It looked exhausted and bedraggled, and I didn't want to see it swept further down the rapids, so I cheep-cheeped at it to bring it onto shore to rest. Much to my surprise, Cheep Cheep immediately swam right toward me. I later realized it wasn't my amazing bird call skills, but my black cap's resemblance to a Canadian Goose's head and bill.
I made sure not to touch my new friend, but offered Cheep Cheep a piece of bread. The little gosling was more interested in eating the mossy stuff at the edge of shore, but mostly just shivered and cheep-cheeped toward the river in lonely desperation.
About forty minutes later, a large goose with five goslings came downstream, scanning the weeds along the shore. It seemed she could count to six. Soon my friend was reunited with his family, and they all cheep-cheeped together into the distance.
During this pandemic upturning everybody's lives, I believe the Goddess of Scribes has watched over me, a bedraggled lost gosling still cheerfully cheep-cheeping my pen across the pages, and guided me away from getting swept further into the maelstrom of the Abyss. My Lady of the Library embrace fools who say, "What horrible things are happening to me — I can't wait to write about it!"
That's what Jack London would do. Since I'm walking in my mentor's footsteps, I'm writing my own book about my own Abyss. When I stare into it, it stares back and tells me, "Keep writing."