A Swift show-stopper
It started with a click.
And $150 later I was off to see Taylor Swift at Levi's Stadium.
What felt like years in the making had transpired into the anticlimactic click of a keyboard. In the first few seconds, my first concert was insignificant. It wasn't until the day before the concert that the emotions overwhelmed me.
Nineteen years had swiftly passed by without any concerts. The only shows I witnessed pre-Taylor Swift were living vicariously through the lens' of people I knew. And as they posted picture after picture, I realized that I was sheltered from a new adventure.
The entire experience was unfamiliar. The pre-show anxiety, first-time curiosity and overall excitement for the concert were mixed together into one unfamiliar, but invited, mess of euphoria.
However, it wasn't until the drive to Santa Clara that I had the epiphany: "I'm going to see Taylor-freaking-Swift."
After that I couldn't sit still. I tapped my foot, shook my leg and hummed every song on her setlist as I waited through hours of traffic. From Petaluma to San Francisco to Santa Clara, time seemed to be in sync with the traffic.
But once I was there, everything changed. Outside Levi's Stadium, hundreds of cars compacted into one small parking lot, leaving a scattered maze to the entrance.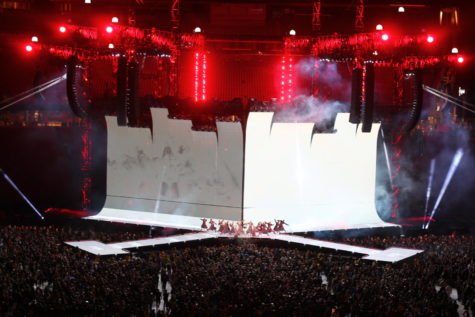 The stadium itself was enormous. From the outside, it looked like a Roman colosseum, with long columns arching above as I walked into my first concert through a wide white entryway.  
Inside the stadium exploded by thousands of feet and grey pavement stretched out miles ahead. I waited at a gate to scan my ticket and was given a white bracelet that lit up with each step I took further into the concrete abyss toward Taylor Swift.
Finding my seat took more time than finding parking, but once I sat down in row 13, aisle 21 I absorbed the moment in its entirety.
My Taylor Swift journey began in 2012 when she released her fourth studio album, "Red." I was such a critic then: judging the album merely by its miscategorization of genre rather than its musical merit. Once I moved past the blatant lie though, I realized something I didn't want to believe.
I liked her music.
"Red" wasn't even one of her popular albums, but still I fell in love. I was mesmerized by the sequined persona that engulfed the 22-year-old Swift. It was the essence of her being, her sheer talent and sparkling personality that captivated and converted me.
Flash forward five years later to November and I'm arguably still one of her biggest fans.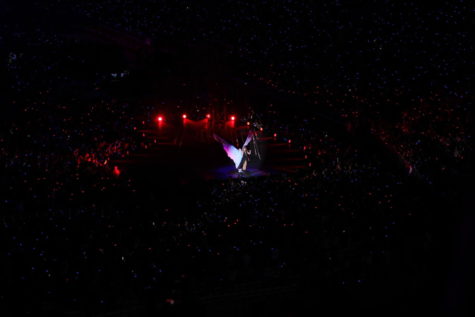 I preordered "reputation," and awaited eagerly to listen once more on the night of its release. It was that night when I was reminded why I fell in love with Swift in the first place: her talent.
She's a musical genius. Swift continually challenges the parameters of genre and often colors outside these lines to the beat of her own drum. Lyrically, she delivers simple yet powerful ballads about the conquests of young love. Instrumentally, she changes chords, beats and rhythm in every song, and every album offers flavorful contrast to the last. Vocally, Swift showcased the best vocals in her earlier years, but she continues to prove her creativity by challenging herself with new concepts, tones and moods with each anthem she produces. She has created a persona that is always adapting. From "Speak Now" to "Red" to "1989," Swift redefined herself with each passing year.
When the album dropped, I listened to it non-stop. For three weeks, I listened to nothing but "reputation." I was hypnotized by the album's viperish sound and the intensity Swift used to achieve this. Three years after her fifth album, she brought fire and fury to those who dared try her. I mean, you can't just write a song like "This is Why We Can't Have Nice Things" and not ooze venom with every word. Especially that mid-bridge cackle.
But the concert was not like the album.
It was much better.
Not only was there a live band there to amplify Swift's moody persona, but when she performed songs like "I Did Something Bad," they brought out Swift's inner wild-child in a Metallica-infused supernova of pop perfection.
Swift literally shined through-and-through in this concert–specifically her wardrobe. With six outfit changes, each costume glistened and shined with every shake and leap, all of which were choreographed by Swift herself.
I left the concert metamorphosed. I was shaken to my core and only wanted more of Swift.
The fireworks, the animatronics, the light shows and every other gimmick shocked and amazed me. Even when it felt predictable, it always was still a surprise. The feelings one gets going to Disneyland for the first time could not equate to the level of emotions I left with. Swift brought her A-game and it was only her second show.
By now she's already completed a leg of her tour, but everywhere she goes she leaves the critics in awe. Each show outdoes the other in such glorious perfection. Ireland and England have both boasted of Swift's phenomenal performances. Even in a soaked stadium, Swift conquered and orchestrated a show beyond anyone's wildest dreams. Not only did she not let the weather rain on her parade but she included two more songs from her previous albums to compensate for the bad weather.
When I left the stadium that night, I eavesdropped on the conversations around me. A total of 600,000 people traveled to this show. Adults, kids and even grandparents sported "reputation" tour T-shirts and homemade T-Swift signs. It was the first time I had witnessed something so emotionally captivating. Seeing all of these people who shared an equal or greater love for Swift accelerated my excitement even more.
As I walked out the archway I had entered, I had an epiphany once more. Swift had created something much bigger and bolder than she ever imagined and it was all because she chose to chase her dreams.