Ask Willow: Scared for a suicidal friend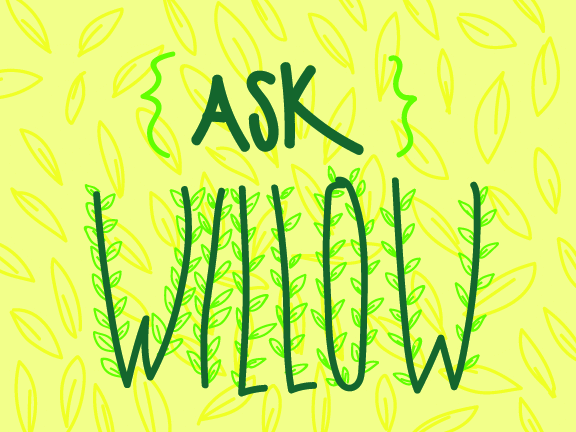 Dear Willow,
How do I help a suicidal friend?
-Scared
If you or a friend are experiencing suicidal tendencies, please seek professional advice immediately.
Dear Scared,
Helping a suicidal friend is not an easy situation to maneuver. There are different degrees of suicidal ideation and depending on your relationship with this person, there may not be one right way to help. You will have to use your best judgement, but hopefully the ideas below will help you to make the right decision.
The first step you can take to help a friend is to suggest counseling. Sometimes talking about an issue to a unbiased party can relieve some life stress.
Santa Rosa Junior College provides free counseling services and offers information on services in the community. The Crisis Intervention Resource team at SRJC specializes in helping at-risk students. Even if your friend is not a student.
Remember that sometimes you can't help your friend. You are not a trained professional, and love alone is sometimes not enough. If your friend is willing, so try to connect them with a professional.
Not all therapists are beneficial or will mesh with every patient. If the right connection is made, therapy can help your friend gain crucial skills needed for coping with difficult situations, and a psychiatrist can prescribe your friend any needed medications.
Most importantly, try to support them. You need to help them. Be vocal, speak up and use your voice. Tell them the truth. Often people with extreme depression have a warped perception of the world around them. Tell them how you are feeling.
Remind them that things get better. Suicide is a permanent solution to short-term problems, and although your friend's problems may seem insurmountable, reassure them they are not worth dying over.
However, be sure to acknowledge and respect the psychological pain they are experiencing. If someone is considering suicide, their judgement may be clouded by the pain they're experiencing. Be respectful of their experience and don't minimize the problems they think are worth dying for.
Do not let your friend do this alone. Guide them, help them and even hold their hand if they ask. Love your friend unconditionally. Stay active and help your friend get engaged by finding something they enjoy doing. Drawing, jogging or video games are a good start to developing healthy distraction habits.
If your friend is talking about committing suicide, has a plan and you're worried they will go through with it, there is only one option: call the police. They can do a welfare check and take your friend to the hospital where they will receive psychological services.
We understand that certain communities may not be as comfortable with the police as others, or there may be reasons calling the police is not an attractive option, but there can be no consequence greater for your friend than death.
Alternatively, you can personally intervene without involving the authorities. Police are not equipped nor trained in de-escalating these types of situations. But when someone is trying to kill themselves, someone needs to stop them, so use your best judgement; if you feel unable to help, you must reach out. A potential suicide attempt is an emergency.
No one wants to call the police on a friend in need, but in this situation, it may be life and death. Most people who survive suicide attempts are thankful to be alive. Helping a suicidal friend may be outside the scope of your capabilities; it's the most serious matter a friend can go through.
If your friend is depressed, and you're worried they may be suicidal but not at acute risk, let your friend know that they are loved and try to be there for them. It's easy to get caught up in life's troubles, but remind your friend these feelings can be addressed.