Transferring madness, the ins and outs of getting out
Transferring colleges can be tricky. Generally, before transferring, students must complete a general education pattern along with 60 transferable units. After that, they are qualified to transfer.
But imagine how you would you feel if you completed all of these items and more just for your future school to tell you that some, most or all of your classes are not transferable. Unfortunately, this happens more than you think, especially for out-of-state transfers.
Journalism major Anthony Sosa graduated from SRJC in Spring 2016 and enrolled in the prestigious sports journalism program at Arizona State University in the fall.
"I knew from the beginning they weren't going to take some of my units, but I assumed that I would be able to complete them along with my other classes in two years. But once I got down there and realized how much I really had to complete, I knew there was no way I could do it," Sosa said.
SRJC alumni Melody Karpinski had a similiar issue to Sosa. In 2009 she transferred to the private university, Point Loma Nazarene in San Diego. She said the school took all of her major prep, but the problem occurred when she attempted to transfer her General Education classes.
"There were an additional three to four [classes] where I had to petition with each individual department to recieve them. One petition went through so long, my diploma was on hold for nine months," Karpinski said.
She was choosing between four schools, onestate, one out-of-state, and two privates. She planned on going to the one that offered the most financial aid, which made knowing what classes would transfer vague at best.
It is unjust and inefficient to work so hard only to have a school say it's not enough.Taking classes over and over again is a waste of money and time. Both are precious to college students.
Not only is it a waste of resources, but not transferring on time can cause students to internalize the issue and make them feel as if they're failures. Not transferring on time shouldn't be dwelled upon, and doesn't make anyone a failure. It is simply a learning experience.
There are a few things students can do to minimize the possibility of units not being transferrable. Once they know which school they want to attend, they should talk to their academic counselor to clear up anything that might go wrong. Students should also check the website of the school they wish to attend for a course calculator like assist.org. Assist.org helps match up classes students take at SRJC to equivalent ones to their potential school. They should also contact a counselor or the department chair of the major they are transferring into to make the transition as smooth as possible.
"That was my mistake, I only talked to a counselor once," Sosa said.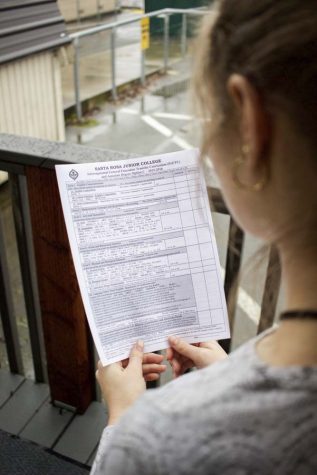 Even though Sosa could have been more proactive, it's not all his fault. Many students find they can transfer to UCs and CSUs with ease, but if they try to transfer to private or out-of-state colleges, all bets are off. The academic rigor of community college classes should be recognized by more private and out-of-state colleges, so that students have the freedom and opportunity to continue their college careers anywhere they wish.