Eleven hemp plants grown for a Santa Rosa Junior College specialty crop production class were stolen from Shone Farm on the nights of Oct. 10-11, campus police said. 
SRJC District Police Chief Robert Brownlee said he received a report that five plants were stolen on Oct. 10, then a second report that six more were stolen the following night. His department is investigating the crime as a felony, he said.
With only trace amounts of the psychoactive chemical THC found in marijuana, hemp does not get people high. Hemp varieties are grown for a range of uses, including textiles, paper, food products and medicinal salves. The plant grown at the college's hemp agriculture program is used to make cannabinoid salves. 
"Our focus is medicine and on the healing aspects of the plant," said Shone Farm Manager Connor Murphy.  
Because hemp and marijuana come from the same plant species, SRJC students learning to grow and process hemp can use their skills to find work in Sonoma County's cannabis industry. 
The plants' identical appearance may mean whoever stole them thought they were getting the more valuable, mind-altering substance, officials said.
"To the untrained person, it looks and smells like marijuana," Brownlee said. "They would not be able to tell the difference."
Murphy said there are signs outside the class that say, "No THC, this is hemp." 
Hemp producers must test the THC levels of their plants, which are legally required to be below 0.3%. In their most recent tests, the hemp at Shone Farms had no measurable THC, Murphy said.
In 2019, SRJC was the first California community college to develop a hemp agriculture program. Cory Reuter participated in the certificate program, then returned to teach the college's first dedicated hemp-production class this semester. 
Today, the program grows about 400 plants on one-quarter acre of land. Each plant is the size of a small Christmas tree, Murphy said.
This semester, Shone Farm partnered with a professor at UC Berkeley to conduct genetic research on their hemp plants. As a result, Murphy said they grow a larger variety of hemp strains than a commercial farm typically would.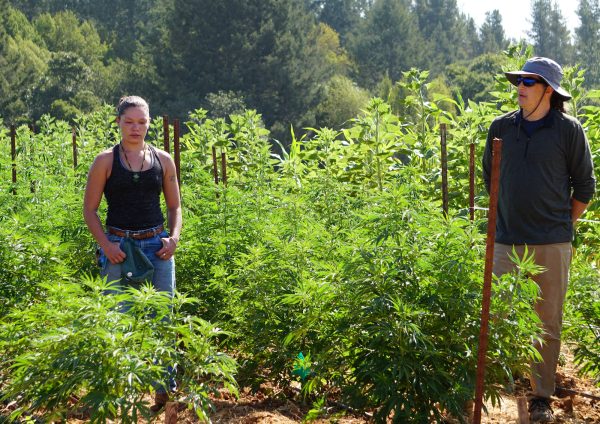 According to Brownlee and Murphy, SRJC's hemp program has been a theft target before, though they could not say more because of the active investigation. 
Murphy said theft of marijuana and hemp plants is most common during the 30-day harvest window, so growers tend to increase security around harvest time.
"Theft is really devastating to the class and the program. It feels really bad," Murphy said.
Brownlee said his department reached out to the Sonoma County Sheriff's Office to increase patrols to the area.
Brownlee asked anyone who has a tip or observes suspicious behavior to call his department at (707) 527-1000.