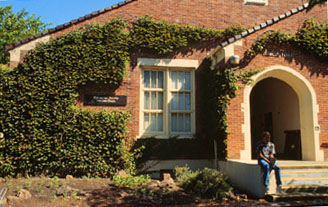 Santa Rosa Junior College District Police arrested a Communication Studies associate instructor for possession of a concealed and loaded firearm on the Santa Rosa campus Monday morning.
District Police detained public speaking instructor, Michael Kenneth Beyries, 74, in his vehicle before he arrived at his class in Garcia Hall at approximately 9:22 a.m. Officers found a Colt .380 ACP caliber semiautomatic pistol after they conducted a search on Beyries' person, car and briefcase. Officers arrested Beyries and took him to Sonoma County Jail, where he was booked without further incident.
"Our goal and intention today was to make contact with him first thing as soon as he arrived on campus, and that's what we're able to do," said SRJC District Police Chief Robert Brownlee. "That happened successfully. He was cooperative. There was no incident." 
A source within the communication studies department said Beyries was suffering from a coughing attack Nov. 8 and had asked students to retrieve the inhaler from his office, at which point two students searched Beyries' personal briefcase and discovered a semiautomatic pistol. One of the students alerted an instructor who reported the incident to District Police on Nov. 16, according to the source.
After the police were informed of the incident, they launched an investigation and obtained search warrants. "We took what the students who came forward of observing the firearm [said] and we focused on that investigation, and that led us to detaining him," Brownlee said. Four district police officers responded to the Tauzer Gymnasium parking lot where Beyries parked his car. "We did not obtain any statements, either by witnesses or by him that would indicate that he was a threat. Other than him possessing a firearm," Brownlee said. 
Beyries was arrested for possessing a firearm on a college campus and possessing a loaded firearm in a public place. District police officers processed, boxed and sealed the gun and will hold it in their custody under evidence. Beyries will face charges from the District Attorney's office, campus police said.  "It goes through the courts for filing. If we need to testify at a trial at a future date, we will do that," Brownlee said.
Brownlee praised the students who reported the incident. "When someone from the community recognizes a crime or sees something that may be unsafe and they let us know, we can work collaboratively to come to a safe conclusion," he said. "At the end of the day, I'm just appreciative that people came forward and we were able to take him into custody safely without incident for my officers, for our community and for him himself." 
Beyries is being held on $60,000 bail.
In an email to students Monday at 9:41 a.m., SRJC President Angélica Garcia said Beyries would be placed on administrative leave. "There is no credible threat to the community at this time," she wrote.  
She advised students negatively impacted by the incident to remember that help is available. "Student Psychological Service therapists are available throughout the day," she said. Garcia encouraged students to call 707-527-4445, email [email protected] or drop-in at Bertolini on the third floor of the Santa Rosa campus for appointments.
Anyone with additional information relevant to the criminal investigation can contact the SRJC District Police Department at (707) 527-1000.