The Sonoma Valley grape vines rattled as the NHRA Camping World Drag Racing Series returned to Sonoma Raceway July 28. While poor track conditions caused havoc on most racers Friday and Saturday, the drivers managed to put on a wild nitro-fueled show for the fans.
Funny Car Driver Bob Tasca III, rolling out this year with a new team, repeated his greatness at Sonoma Raceway by running a whopping elapsed time (ET) of 3.938 to edge out Alexis Dejoria by just .004 of a second. 
"I was a little surprised to see that it held," said Tasca III when describing his fastest run. "It's exciting to go to the pole and it gives us a pretty good shot to win that first round tomorrow morning. We'd like to just do as good as we did last year." Tasca III will have a first round bye Sunday and will face either eight-seed JR Todd or nine-seed Blake Alexander.
After a rough run at Sonoma last year, Top Fuel Driver Austin Prock peeked into the top spot, heading into the finals Sunday with an elapsed time of 3.704, just .002 of a second ahead of runner up, Steve Torrence. "This is the best I've done this early in the season by far. I feel like we keep getting better and better every weekend, even if it doesn't show on the track," Torrence said. "Sometimes we are picking away at certain things inside the pits and inside the car. I'm really proud of where we're at this far in the season, and we're getting out at the right time." Prock will have a first round bye Sunday and will face either seven-seed Justin Ashley or 10-seed Doug Kalita. 
Pro Stock Motorcycle driver Gaige Herrera inched into top spot of his class with an elapsed time of 6.728, only .001 seconds in front of Karen Stoffer. "This win lies on the team," Herrera said. "We did a lot of changes of transmission and gear changes, in between rounds, you know, five minutes before we made a pass. So this one was special as a call out for the team." He will have a first round bye Sunday and faces 16-seed Ryan Oehler.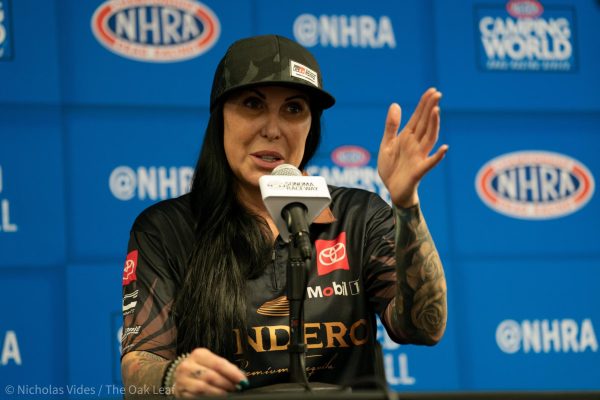 Freaky Friday
A synthetic oil spill in the right lane Friday afternoon wreaked havoc on the Funny Car runs late Friday night. "You want it to be cold out but have a good warm track and stick to it," said Funny Car driver Alexis Dejoria. "We were good all the way down, no issues at all. A lot of guys suffered early [tire] shake." Dejoria was one of the few Funny Car drivers to escape the poor track conditions.
Funny Car drivers Matt Hagan, John Force and Ron Capps, among others, all suffered problems due to track conditions Friday night, resulting in poor qualifying times.
It was a similar story in Top Fuel Friday night. "We just overcame the conditions," said Top Fuel driver Austin Prock. "We've really been struggling trying to keep this thing on eight cylinders. And we did that tonight and [the car] put up a great number."
The DENSO NHRA Sonoma Nationals continues Sunday, with the first elimination round starting at 10:30 a.m.