SRJC's next president: A look at the finalists
Santa Rosa Junior College's Board of Trustees narrowed its candidate list down to a final three and plans to meet to discuss and select SRJC's sixth college president Friday afternoon. The public may provide comment about the finalists at Friday's board meeting at 3 p.m. in Conference Room 4401 inside Doyle Library on the Santa Rosa campus before the board goes into closed session to make its decision.
Each applicant participated in a 45-minute to hour-long question and answer session in front of both a live and Zoom audience in Burbank Hall on Monday or Tuesday.
Dr. Kimberlee Messina
Presidential candidate Kimberlee Messina wants to "get to know the new SRJC," and apply her new experiences to her familiar community.
Messina has a 16-year history with SRJC and 27 years total as a part of the California Community College system. She began working at SRJC in 1995, teaching Spanish and holding leadership positions in the Academic Senate until 2007, when she became interim dean of arts and humanities. Later that year, she was appointed instructional dean of science, technology, engineering and math, which she held until 2011.
"I feel like I hit the ground running in the external community, because we really do have such deep ties and we have been involved in the community for many, many years," Messina said in her candidate forum Monday morning in SRJC's Burbank Auditorium. 
In the subsequent 12 years, Messina spent five years as vice president of instruction and Institutional Research at Foothill College, two years as interim vice chancellor of academic services at San Mateo Community College, one year as interim vice president of instruction at Clovis Community College and most recently, four years as president of Spokane Community College in Washington. Family ties and the desire to return to her old community draw her back to Santa Rosa, and there are no other positions she's currently running for. 
"I love the work that we've done, but it's time for my family and I to come home," Messina said. "And there is no greater home than SRJC." 
Messina highlights her experience as a first-generation college student who spent her high school working, before gaining a bachelor's degree in sociology from California State University, Sacramento, and a doctorate in educational leadership from University of California, Davis. She acknowledged SRJC's commitment to underserved communities, and said she hopes to continue to optimize resources as president of a Hispanic-Serving Institution (HSI). 
"I look forward to the opportunity to be able to make it not just a numerical HSI, but an outcome-based HSI," Messina said. "Not just access, but success and equitability." 
Messina emphasized the importance of focusing on long-term student success and outcomes rather than short-term data points, referencing that increasing enrollment on-paper doesn't inherently correspond with student retention. 
"It's really about student retention, student success," Messina said. "It's about making sure we are there for our students."
Messina said she has done significant work in organizing Guided Pathways programs that lead students through their entire college experience, and she emphasized the importance of equitable processes in hiring staff and forming policies that structure these programs. 
"We've integrated student services and production in a much more positive way from the very beginning; from outreach to orientation," Messina said. "At its fundamental level, [Guided Pathways] is institutional transformation."
Messina noted plans to hold frequent office hours, both in-person and over Zoom, to build relationships with SRJC's community and "be visible." She also hopes to further integrate SRJC's opportunities with those of local four-year universities and provide students with more chances to conduct research and other work-based learning. 
"That's an equity effort that's really important for community college students," Messina said. 
Messina also has extensive experience in college accreditation, having served on seven teams in California. She hopes to approach the process with transparency and communal understanding regarding "the why" of accreditation and other bureaucratic processes. 
"I think SRJC has gone in the right direction to be more meaningful than it was in the past," Messina said. "I'll be making it very much a part of the conversation."
Dr. Santanu Bandyopadhyay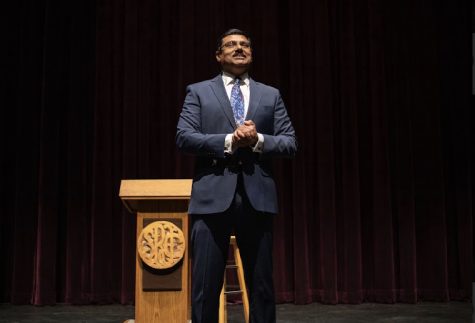 Santanu Bandyopadhyay hopes his background in business and management at a variety of schools can be integrated into SRJC's diverse and progressive culture. 
"I believe that experience has prepared me well to see the vision of the Board," Bandyopadhyay said in his candidate forum Monday afternoon. "See that vision, integrate that work with all you, and take Santa Rosa to a greater place." 
After receiving a doctoral degree in higher education/higher education administration from Ohio University, Bandyopadhyay held several management positions in various state and community colleges.  He spent three years as a budget and policy analyst at Ohio University, three years as a director of institutional research at Zane State University in Ohio, nine years in that same position at Cypress College before becoming Cypress' vice president of educational programs and student services. He served two years as president at Columbia College in Sonora and two years as president at Modesto Junior College, before getting fired for what the chancellor called a "personnel matter," according to articles in the Modesto Bee. 
Yosemite Community College District's chancellor Henry C.V. Yong allegedly questioned Bandyopadhyay's loyalty after he interviewed for other colleges just weeks after getting the job at MJC. However, Bandyopadhyay still received recognition from Yong that "praised his leadership, highlighting his role in union negotiation, enrollment, and diversity," according to the Bee. 
To Bandyopadhyay's credit, MJC has the highest CEO turnover rate among California's 115 community colleges. He was the college's 16th president since 2000. By contrast, SRJC's next president will be the college's sixth president in its 105-year history.
Bandyopadhyay said in an email to the Modesto Bee, "If we are the highest turnover of Presidents at MJC, I implore you to investigate what goes on at YCCD, rather than questioning the commitment of President(s)."
Now working as an interim president at Woodland College, he highlighted the diversity of his experiences as president in both urban and rural community colleges. 
"Working in both of those places, I kind of get a feel for Santa Rosa," Bandyopadhyay said.  "It's the similarities that I find in those areas that make me interested in this position and getting to know Santa Rosa." 
Bandyopadhyay is a first-generation immigrant who received his first years of higher education in India before moving to Ohio to pursue his doctorate. 
"I came to this country 23 years ago with $6,000 in my pocket," Bandyopadhyay said. "And I'm standing here today because of public education."
Bandyopadhyay cited SRJC's progressive policies and goals, specifically those regarding anti-racism, cultural competence, global civility and sustainability, as a major factor that drew him to the school.
"Those are the areas we need to teach our children, the next generation and those who are coming to the college," Bandyopadhyay said. "I would like to see how I can contribute to that journey." 
Bandyopadhyay plans to address further inequities by increasing SRJC's involvement with the local community and maximizing resources for students. He would examine major student barriers individually, and source the optimal way to address each issue. 
"The money that we get from the formula, that's probably not enough to feed all of the hungry students here," Bandypadhyay said. "But, if we look at the community's resources, we can bridge those gaps." 
Bandyopadhyay hopes to use his position to maximize underrepresented voices and perspectives of those who will be most affected by policy changes.
"I need to depend upon people who are closest to the decision," Bandyopadhyay said. "Their voices matter; their perspectives matter."
Bandyopadhyay intends to improve bringing "campus and community" together by bridging gaps between himself and the rest of SRJC's community. He described plans to spend time with students at lunch and across campus, and to get to know faculty outside of school hours. 
"Being visible, being approachable, that helps people know me at an individual level," Bandyopadhyay said.
Bandyopadhyay plans to look at structural issues in the college's finances and make college costs more accessible for students while maintaining strong school finances. With extensive experience directing budgets, he intends to do this through advocacy at the state level, fundraising and finding unconventional ways to get funding. 
Dr. Angélica Garcia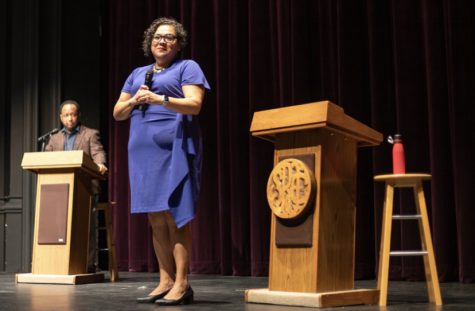 Dr. Angélica Garcia introduced herself as an educator, sharing that she is positive her professional path and life experiences have prepared her for the role of SRJC's next president.  "I know how important it is to be a part of a community where education, workforce and industry, healthcare and community organizations all partner together to make this…a place where young people can be born, get educated, thrive, get trained and then afford to live in a zip code where they were born," she said.
Garcia is president at Berkeley City College (BCC) and a lecturer at San Francisco State University, where she mostly teaches doctoral candidates in educational leadership. She describes herself as a multicultural Chicana woman from Fresno, Calif., a parent of two, and a member of the LGBTQIA+ community. 
Garcia earned a doctorate in educational leadership from San Francisco State University, a master's of social work in social work administration from San Diego State University, and a bachelor's degree in liberal and civic studies from Saint Mary's College of California.
According to her finalist profile on the SRJC page, Garcia has more than 23 years of professional experience, including teaching and administrative roles in higher education, secondary education and non-profit organizations. Before she became president of BCC in May 2020, she was vice president of student services for five years at Skyline College in San Bruno, Calif. 
In Dec. 2022, "Hispanic Outlook on Education Magazine" featured a cover story on Garcia's successes at BCC, including establishing the school as a Hispanic Serving Institution (HSI) with a focus on STEM opportunities for its Latinx students. Because of its status as an HSI, the college received multi-million dollar grants to benefit students. SRJC is also an HSI college.
Garcia said students need a campus community where they feel seen, heard, supported and challenged. She outlined several strategies she would implement and explore as SRJC president to achieve these goals, including deepening relationships with community groups like Los Cien and leveraging the college's own "convening power" as an institution with a long legacy and deep community roots.
She expressed a commitment to diversity, equity, inclusion and access work, noting that she enjoys being in spaces where she can learn from others and they can learn from her. 
"I am committed to public education," Garcia said. "I am committed to being an active member of whatever community I live in. I am committed to being a part of problem-solving, especially when it is in the best interest of the community, but unapologetically when it is about disrupting generational poverty."
According to Garcia, the position would give her the chance to do what she loves, which is to help disrupt institutionalized racism, classism, sexism–all of which she said keep people from being able to thrive.  
Although she loves Berkeley City College, Garcia said she is ready to call Santa Rosa and SRJC her home.