SGA approves new VP of marketing, funds Black History Month event, appoints members to hiring and finance committees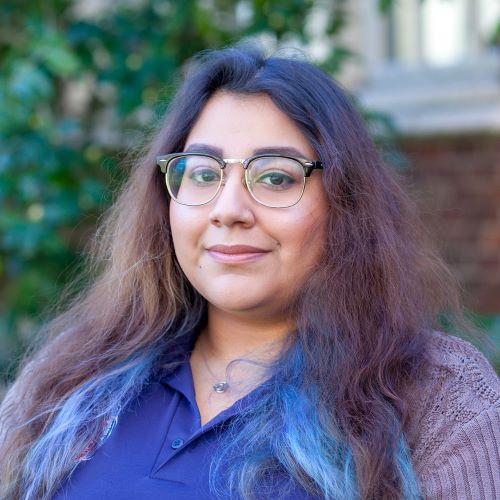 Santa Rosa Junior College's Student Government Assembly appointed a new Vice President of Finance, a World Languages Hiring Committee member and a Vice President of Clubs, and approved spending for sustainability and theater-related projects during its March 13 meeting.
VP OF FINANCE
SGA appointed Evelyn Navarro as the new Vice President of Finance. Navarro previously held roles in student government as the Student Body President during the 2017-2018 school year and as Vice President of Finance during the 2020-2021 school year.
"I've always loved student government as an experience," Navarro said.
Navarro hopes to use her SGA experience to organize and promote professionalism within the group, referring to it as a personal "duty," given her past presidency.
"You guys want this [student government] experience to look a lot like real-life experience," she said. "I want to help in any way or shape possible."
Navarro's position also includes leading SRJC's Finance Committee members in drafting a $500,000 budget for next year's student government before bringing it to SGA for final approval in May. The committee meets at 11 a.m. Wednesdays.
HIRING COMMITTEE
SGA appointed Leticia Camarena to the World Languages Hiring Committee, which is currently looking for a full-time Spanish faculty member. She hopes to get feedback from the student body on what they want in an instructor.
"I would be the voice of many students," Camarena said. "There are certain [student] things that you just have to know about."
Committee members will sort through applicants' profiles before attending the job interviews and eventually voting for their final candidate.
"The questions that I want to ask will be related to diversity," Camarena said. "How would you promote diversity? How would you also teach students who are Spanish-speaking?"
Vice President of Student Life Melissa Ramirez agreed and said taking some classes as a bilingual student was challenging. She added that doing work reflective of how Spanish is spoken in native environments is effective in reaching students at their individual levels.
"I was actually one of those students who mixed up English and Spanish," Ramirez said. "And those are the kind of students that are going to be taught."
The committee, organized by the World Languages Department, is composed primarily of faculty members; however, it also hosts one student to bring a more balanced perspective.
"It's a mutual-respect thing," SGA President Abrea Tillman said regarding the committee's decision to include students. "Students know they have the right to be involved."
VP OF CLUBS
SGA also appointed Patsy Butler as Vice President of Clubs and SRJC's Inter-Club Council Chair.
"It's the committee that has the most in-person presence," Tillman told Butler. "It's a lot of fun."
Butler will act as the lead representative for all clubs on campus and host ICC meetings to approve and advise clubs at 1:30-2:30 p.m. every Wednesday.
ADDITIONAL EXPENSES
SGA approved $200 from the sustainability budget to go toward Biology Club's trip to the Academy of Sciences.
"I do believe that it is an important project, and it's related to sustainability because these students are participating in the trip and gaining experience in their fields," Vice President of Sustainability Kabir Pandeya said.
The Biology Club, having combined with the Eco Club and grown more sustainability-oriented during the past year, also intends to use this trip to highlight the free Clipper BayPass offered to SRJC students.
"I think these leaders are really showing, 'Yeah, this is something you can do with this [Clipper Card]; without ever having to drive in a car, without ever having to use up more fossil fuels than are necessary, you can get all the way to San Francisco, have a really awesome day at the Academy of Sciences and get home again with this free card,'" SGA coordinator Zach Miranda said.
SRJC students are eligible for free Clipper BayPass cards that offer access to any Clipper-associated Bay Area public transit system, including the Santa Rosa CityBus, SmartTrain, San Francisco Bay Ferry and BART.
SGA also approved $300 from the sustainability budget to support the fifth annual Climate Action Night, which will take place from 4:30-6:30 p.m. April 28 at SRJC's Bertolini Student Center.
The event highlights sustainability-related legislation and is open to SRJC, Sonoma State University and Sonoma County high school students. Attendees will be grouped with a mentor and assigned current legislation to create a presentation on.
"It's a wonderful experience for anyone who's interested in sustainability, political science or leadership," Pandeya said.
The funding will help students buy materials to create poster presentations for the event.
SGA also approved $400 for the Theatre Department to provide students and staff with food for their strike and close-down day.
"After a three-week marathon, all working together to get to that finish line, they have to clean up everything," Miranda said. "Then, they would have to go out and buy their own food for the last day of production when they're doing all that cleanup and all that really hard work."
The money will reimburse students for purchasing food during their strike Sunday, March 12.