Sam Gomes, beloved long-time SRJC baseball coach, dies at 60 of ALS
After a year-long battle with Amyotrophic Lateral Sclerosis (ALS), or Lou Gehrig's disease, Santa Rosa Junior College assistant baseball coach and forever-Bear Cub Sam Gomes died Thursday from complications of the disease. He was 60.  
"For over 30 years Coach Gomes was a part of the SRJC baseball program and impacted in a positive way hundreds of young men," SRJC Athletic Director Matthew Markovich said in a statement to The Oak Leaf. "Our hearts are filled with sadness and tears, but our memories are filled with the good times and conversations we shared with him over the years. He was a special, special man."
Gomes coached baseball all around the Bay Area starting in 1990. He was an assistant coach to Ron Myers at SRJC from 1989-1994 and then coached for several high schools. He returned to SRJC in 2008 primarily as the catching coach, and also caught bullpen sessions for pitchers. Gomes coached until 2020 when health issues forced him to stop.
Gomes' love of baseball extended much beyond his coaching. He played catcher for the SRJC baseball team from 1980-1983, and transferred to California State University, Chico, to play from 1985-1986. Gomes also played for the Redwood Empire Baseball League (REBL) Pirates for several years in the 2010s, most recently in 2015 when he was 52. 
"He was in his 50s catching both-ends of a double-header," fellow long-time assistant head coach Tom Francois said. "He was a workhorse, a Clydesdale." 
Gomes loved his coaching job and never looked for recognition. 
"Sammy did it… because he loved it," Francois said. "I admired it so much. He did it for the right reasons — it's for the young guys. We love them, and Sammy loved them."
Gomes's dedication to coaching impacted countless players.
"I once told him, 'Do you realize how many hundreds of guys you've mentored?' He made good men better and better men greater," Francois said.
Over his many years at SRJC, Gomes coached several current and former MLB players, including Miami Marlins pitcher Anthony Bender, Baltimore Orioles manager Brandon Hyde and catching instructor Timmy Cossins. Gomes was well-known in the local baseball community, which showered him with support from the moment of his diagnosis.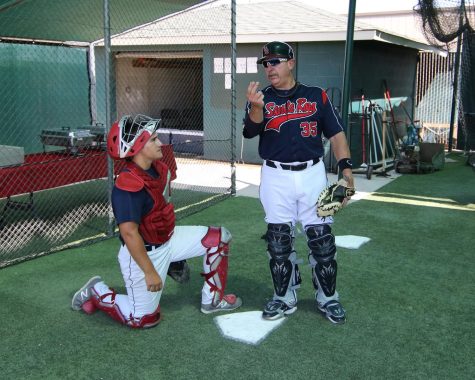 "The baseball community, when they found out about [his ALS diagnosis], they circled the wagons," Francois said. "The love extends so far beyond the [SRJC] campus."
Gomes was diagnosed with ALS May 4, 2021, and doctors gave him three to five years to live. He was no longer capable of coaching, according to Francois. Shortly following his diagnosis he became wheelchair-bound, and relied on his then-fiancee, Alice Bunting, and caregivers for day-to-day support. SRJC head coach Damon Neidlinger, Francois, and others in the baseball community visited him regularly.
The SRJC baseball team "dedicated the season" to Gomes, according to Francois, and honored him throughout. Coach Neidlinger wore Gomes's 35 number all season, Gomes's favorite number because of his idol Vida Blue, according to a Nov. 2021 interview with the Press Democrat.
The team also celebrated "Sam Gomes Day" on April 9. They dedicated the bullpen of the newly renovated Cook Sypher Field, where the Bear Cubs play their home games, to Gomes, and an asphalt walkway behind the dugout was created so he could easily access it in his wheelchair.
"He was absolutely beaming that day; his smile was beatific," Francois said. "His family was there, lots of players he played with and coached, there was so much support… I told Damon [Neidlinger], 'I'm so glad we did this while he was still here.'"
Francois received a call from Gomes's friend and former SRJC assistant coach Larry Olenberger at approximately 3:20 p.m. Thursday delivering the news that Gomes had just died. His caregiver also texted Francois simply with the words, "Sam is at peace."
Gomes leaves behind his fiancee and adult daughters.