From Star Wars to sloths: The Spring Cinema Series returns to Petaluma campus on Wednesdays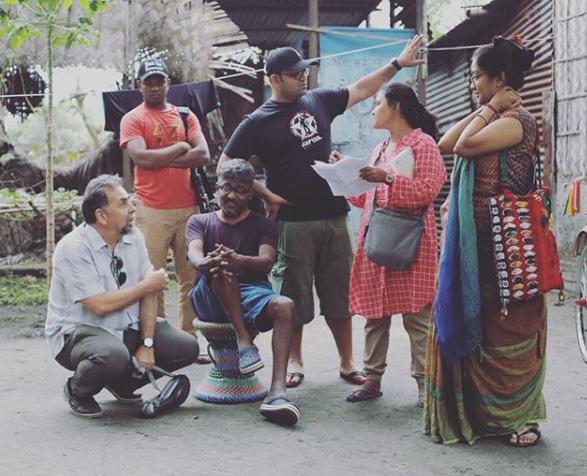 After a two-year hiatus, the Petaluma Cinema Series is back with six diverse films, interviews with industry celebrities — including a "Star Wars" legend — and a visit by sloths in the Carole L. Ellis Auditorium.
"It's one of the first entertainment/educational activities that the college runs, and we are reopening the doors for students in the public to come and participate," said Michael Traina, SRJC film instructor and Cinema Series founder. "It's a big milestone post-pandemic." He hopes to gather film lovers of the community to welcome home the event.
"​​The Cinema Series was designed to be an interdisciplinary forum, where people could come share ideas about great cinema to hear from professionals from within the industry," Traina said.
The content for this season's series features themes of climate change, immigration issues and LGBTQ+ stories. "Rickshaw Girl" was the first film to screen April 6.
The rest of this year's line-up is as follows:
April 13: "My Dead Dad"

April 20:  "Anima"

April 27: "I Carry You With Me"

May 4: "Star Wars: The Empire Strikes Back"

May 11: "Fantastic Mr. Fox"
"We are always looking to showcase a variety of films, some off the beaten path to help people discover new content and to capitalize on popular favorites. A balance of both," Traina said. "We are celebrating Earth Day for April and Global Star Wars Day on May the Fourth. You have to seize the moment."
Traina will lead conversations about the film business with directors and producers of the featured films prior to each screening. One of this season's highlights is an in-person visit on May 4 from legendary Oscar and Emmy-winning visual effects artist Phil Tippett.
"He's won multiple Oscars and Emmys and was a pioneer in the motion picture business. He's someone really at the center of the creation of "The Empire Strikes Back," Traina said. He and the faculty are excited to welcome Tippett to the campus.
For the "Fantastic Mr. Fox" screening, representatives from Sonoma Sloth House will bring live sloths and other animals to the stage with the help of SRJC veterinary instructor Dan Famini.
SRJC screenwriting instructor Eric J. Adams produced the opening night film, "Rickshaw Girl," which was filmed in Bangladesh. Adams also discussed the filmmaking process and answered audience questions on April 6.
In an interview with The Oak Leaf last fall, Adams detailed his film making foundations. "I've always had the ideal, which I hope I've manifested, that I want every single film I make to be meaningful in some way," he said. "Rickshaw Girl" won five awards at the Mill Valley Film Festival, including Audience Favorite.
"It's really great to be featuring a film by somebody in our own college community," Traina said.
Traina also expressed that important messages are conveyed through cinema and can set a social justice agenda.
"It opens up reflections and conversations in ways that conventional arguments or op-ed pieces don't," he said.
Carole L. Ellis Auditorium, outfitted with new 4K projection tech after a spring 2020 renovation, wasn't open to the public until this semester.
"We haven't been able to take advantage of this great investment and resource that we have, so it's exciting to make it available to people," Traina said.
The series runs from 6–10 p.m. every Wednesday through May 11. Interviews with guests begin at 6 p.m. and screenings start at 7 p.m.