Inflation: Prices in Sonoma County soar, force lifestyle choices for students
Inflation is on a dramatic rise, and for Santa Rosa Junior College students, the increase in prices is forcing them to make difficult budgetary decisions. 
Inflation rose 7.5% over the past 12 months ending in Jan. 2022, and consumer prices surged to 7.9% in February alone, representing a 40-year high, according to the Bureau of Labor Market Statistics. 
Inflation is the result of a variety of problems, from pandemic supply chain disruptions to an increase in money supply. The pandemic caused the Federal Reserve to push money into the economy and the White House and Congress to give trillions of dollars to aid families and businesses. With an influx of money in the U.S. economy, people began to spend, according to a February Commerce Department report.
When demand for products is high and supply is low, prices skyrocket, causing inflation.  
The Federal reserve is fighting inflation by influencing short term interest rates and implementing quantitative easing. "That process [quantitative easing] will dampen demand as borrowing costs increase but will not do anything to alleviate the supply constraints in the oil market," SRJC economics instructor Edward Sorensen said.
"The net result is that we could be entering a period of slower growth, rising interest rates and stubbornly high gasoline prices," he said.  
Gas inflation guzzles income
Prices at the gas pump are taking a toll on SRJC students' wallets. 
National gas prices have declined slowly but gas prices in California continue to rise. Sonoma County gas prices ranging from $5.55 to $6.53 per gallon on April 6. The national average gas price is $4.16 per gallon. 
"I've had to cut back on driving to places that are not in my area," said SRJC student Andrew James, one of several students surveyed about how high gas prices are affecting their budgets. "I probably spend around $50 more per week on gas than I did last year." 
Of the students interviewed, 40% commuted to school, though all had fuel-efficient cars. Students said they have cut down on their driving and use apps like GasBuddy to find the cheapest gas in the area.
According to instructor Sorensen, it is difficult to predict an accurate outlook on inflation right now. "The major question mark is what happens to oil prices, which are set in global markets and are heavily influenced by the war in Ukraine and the resulting sanctions on Russia, along with the decisions of major OPEC producers as to whether they are willing to expand their output to alleviate the current shortages," he said. 
The U.S. production is ramping up in response to the higher oil prices, but that alone is not enough to offset the reduction of oil production from other countries, Sorensen said. "There is a direct and significant correlation between oil and gasoline prices, so if oil prices stay high gasoline prices will as well."
Food prices force decisions
A significant increase in food prices, both in grocery stores and at restaurants, in Sonoma County has forced SRJC students to readjust their way of living — their grocery trips as well as their diets — to cope. "I try to keep spending to a minimum and only buy what is essential," James said.
"When I have to buy groceries, I'll use coupons and Safeway rewards points to get by," SRJC student Cheri Ligotti said.
Limiting spending, using coupons and buying sale items are a few methods students said they use to combat price increases. 
Recently reopened, the Student Resource Center at SRJC has partnered with Redwood Empire Food Bank's Station 3990 and SRJC's Shone Farm to distribute free food to current students at Bailey kiosk, located on the Santa Rosa campus between Luther Burbank Auditorium and Tauzer Gym on the north west corner of the football field. Students must register beforehand online, instructions can be found at this link.
According to a U.S. Department of Agriculture summary finding conducted in Feb. 2022, all food prices are now predicted to increase between 2.5 and 3.5% and restaurant dining prices are predicted to increase between 4 and 5% this year.
SRJC employee Jennifer Warner only eats at restaurants once a month. "I mostly eat home-cooked meals," she said. 
"I noticed that a couple of restaurants that I've been to have raised their prices," SRJC student Julian Watkins said. 
Students are not the only ones facing hardship; businesses are hurting too.
The pandemic contributes to rising inflation rates and since the beginning of the pandemic, according to the Press Democrat, more than 70 businesses in Sonoma County, restaurants included, have closed permanently.
Due to inflation, an SRJC alumni recently made the tough decision to close his business. Chris Tara-Brown, is Co-Ceo of Unfurl, a virtual food hall where you can order many types of food all in one order. 
"Most all of our original investors were from Russia, then the war in Ukraine happened. With the 30% inflation and the collapse of the stock exchange by over 70%, two investors were not able to get their money out in time. And we did not have enough money to operate and had to shut down," Tara-Brown said.  
During his first State of the Union, President Joe Biden acknowledged the rising costs of goods. 
"Too many families are struggling to keep up with the bills. Inflation is robbing them of the gains they might otherwise feel," he said. 
Biden set out several proposals to help families combat inflation. "My plan to fight inflation will lower your costs and lower the deficit," he said.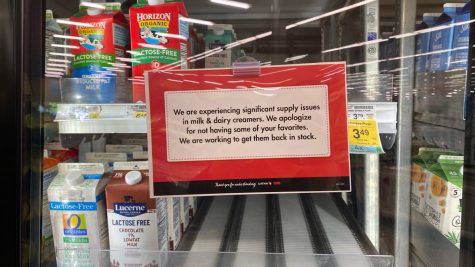 Inflation is hurting many students' budgets, but there are ways to reduce spending, according to Christine Bauman, who tries to bring wellness practices and self-care skills to individuals, families, companies and organizations through her and her husband's Baumen Wellness center in Sebastopol.  
"You can find good deals on different days shopping at Grocery Outlet, Safeway, Costco and now Walmart for organic food. You can lower your price of food and save money by sourcing your food costs at different stores," Baumen said. 
She recommends preparing food for the week. "It lowers the tendency to just grab a quick bite of takeout because of hunger," she said. She also suggested freezing meals to reheat later in the week, planting a vegetable garden, and freezing, dehydrating or canning fruits and vegetables. 
"Belonging to food buying clubs where you buy in cases and split it up with others to save money is another cost saving approach," Bauman said. "Be aware of what your real needs are. Simpler can be better."