SRJC Foundation seeks student and faculty input for new on-campus mural
The Santa Rosa Junior College Foundation is inviting members of the SRJC community to provide input on a new campus mural in a virtual conversation with the artist from noon to 2 p.m. Nov. 10.
John Mullineaux, executive director of the SRJC Foundation, commissioned SRJC alumna and professional artist Maria De Los Angeles to paint a 7-foot-wide, 15-foot-high mural in the community room of the new Foundation building under construction at 707 Elliot Ave. 
Mullineaux said the community room will be a gathering place for students, faculty and staff and De Los Angeles' work will be welcoming and spark conversation. 
"Maria's work is very colorful and has an incredible narrative. It can connect with a lot of people," Mullineaux said. 
De Los Angeles transferred from SRJC in 2010 to The Pratt Institute, where she received a master's in fine arts (MFA) in 2013 and later obtained an MFA in painting and printmaking at the Yale School of Art in 2015. She is currently based in New York City and New Jersey where she teaches at the Pratt Institute and the Fashion Institute of Technology. Her art is known for a mixture of socio-political commentary, surrealism and vibrant colors. 
"My style is somewhat whimsical, but I embed a lot of information into my murals that people can read into," De Los Angeles said. "I also want to bring color to the campus."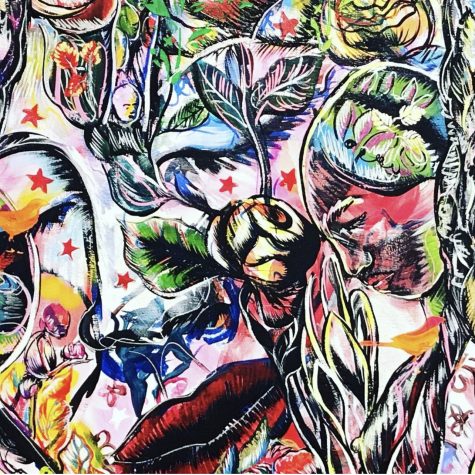 She said she wants input from SRJC students because they are the most informed about campus issues, but she also values what faculty and other SRJC community members have to say. 
De Los Angeles is a first-generation college graduate who had undocumented status when she was at SRJC. She moved from Mexico to Santa Rosa's Roseland community in 1999 when she was 11. She hopes to represent both her Californian and Mexican roots in her mural. 
"I am very much from here, but I think it's important to have Latino visibility in Sonoma County because we have a large population," she said. 
Mullineaux said De Los Angeles' story is reflective of many SRJC students', which is why he plans to use her work in his constant search for donations.
"I envision taking donors into the community room when they visit us and beginning our meeting by telling them her story, and letting them know about the students' needs," Mullineaux said.   
The last time De Los Angeles showed her art in Santa Rosa was during a solo exhibition at the Museum of Sonoma County in August 2019.
"I feel like this is a bigger deal because it will be a public art piece and I have a lot of freedom to express different subject matters," she said. 
De Los Angeles is conducting research for her mural until December 2021, and the virtual conversation will be the first in a series with the SRJC community. She plans to start painting in February 2022 and finish by the end of the year. 
She will work on the mural at her studio in Jersey City, N.J. and then it will be shipped to Santa Rosa and professionally installed. De Los Angeles followed a similar procedure for a set of murals displayed in Glen Ellen on July 10 at the Garden Court Cafe restaurant and an affordable housing project at 13647 Arnold Drive. 
To RSVP for the virtual conversation or for more information go to https://intercultural.santarosa.edu/FoundationMural. 
De Los Angeles said if instructors can't bring students to the event, they can set up a virtual appointment with their class by contacting the SRJC Student Intercultural Center at [email protected]. 
SRJC community members can also reach out to Malena Hernandez, SRJC coordinator of student success programs, at [email protected]. 
To learn more about Maria De Los Angeles go to https://www.manacontemporary.com/artists/de-los-angeles-maria/.