SGA approves three new hiring committee positions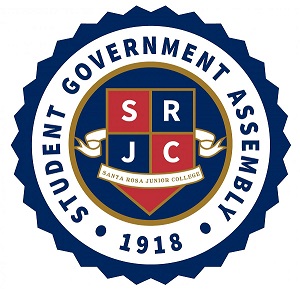 Santa Rosa Junior College's Student Government Assembly approved three new hiring committee positions, two for advisor of student affairs accounting and marketing and one supervisor for COVID safety, at its virtual meeting on Oct. 18.
The advisers of student affairs accounting and marketing are the accountants for all financial transactions going through SGA and student clubs with the student life department, SGA Coordinator Zack Miranda said. SGA Vice President of Diversity Athena Weathers and Vice President of Marketing for Santa Rosa Abrea Tillman were approved to fill the positions.
The supervisor for COVID safety is in charge of rolling out the current safety monitor program such as bracelet checking, and CLEARED4 checks through next semester Miranda said. Odalis Rebolla, SGA assembly member of hispanic and latinx students, was approved to fill the position.
SGA also approved $700 in funds for a professional restorative justice facilitator.
"This is to continue dialoguing around conflict mediation and restorative justice when we have core beliefs that aren't always in perfect alignment with each other," SGA advisor and Manager of Student Life and Engagement Programs Genevieve Bertone said. "We wanted to bring someone in that has experience to help us navigate and build community trust."
SGA also approved $400 in funds to support Vice President of Sustainability Andrea Jojoa's medicinal plant gardening project. Jojoa said the project is for SRJC students to have free access to medicinal plants, such as rosemary, of which picking the leaves and smelling them reduces stress, or types of plants that can be used for tea.
Members also approved to endorse the LGBTQIA2s+ Not in my House event presented by the Queer Resource Center and Student Government on Zoom Oct 19. The Zoom ID for the event is 488 315 5694.
SGA Student Body President Delashay Carmona Benson said the event is about the intersectionalities transgender and queer people face and how they can be rejected within their own communities.
During the special reports part of the meeting, Candy Owens, part of the technical support for the CLEARED4 system SRJC is using to monitor student and faculty vaccine and COVID testing, provided information for students who are not attending in-person classes but still need to come to campus for a special event or club meeting. Since these students are not receiving texts or emails from CLEARED4, they need to enter their vaccine or testing information in the student portal to receive a campus access pass. After logging into the student portal, they need to click on the Admissions and Records Section, where they will find the new category "COVID-19 Health Status" and a link to enter the CLEARED4 system to receive a pass. Owens said students will use this process to be cleared for in-person classes for Spring semester. Students with further questions can email [email protected] or call 707-524-1500.
Health Promotion Specialist Jeane Erlenborn introduced the PEERS Coalition, which provides training for suicide prevention and mental health first aid. This involves teaching people how to recognize signs of people who have suicidal thoughts and mental illness, how to talk to them and refer them to help. So far the coalition has trained more than 4,500 students. She said PEERS is hosting a suicide prevention training from 9–11 a.m. Oct. 22 on Zoom with ID 933 3925 6728. 
Health PEER Quinn Han said PEERS stands for People Encourage Each Person to Receive Success, and the program aims to raise awareness and reduce stigma around mental health. She said PEERS does workshops, training and outreach on daily stress and diagnosable mental illnesses.
Health PEER Abby Pierce is in charge of social media, and asked students to check PEERS out on Instagram, Facebook and YouTube.
Health PEER and SGA Member of LGBTQIA2S+ Matti Cottrell posted about the PEER events Well-Being Wednesdays, which are on the first and third Wednesdays each month from 5–6 p.m. on Zoom with ID 919 1544 2233.
During the reports section, Cottrell said the Queer Resource Center is hosting events for the first two weeks of LGBTQ history month. This week members will be talking about the history of LGBT activism in Sonoma County, and next week they will have guest speaker Sister Sparkle Plenty of the Russian River Sisters of Perpetual Indulgence.
In the Open Communications section, Jojoa announced the sustainability event, Hollow Green, with a Zero Waste Program Manager to speak about decorating your house with materials other than plastic from 2–3:30 p.m. on Oct. 26.