The Oak Leaf Guide to SRJC, Fall 2021: Petaluma campus edition
Whether you're taking classes on campus or online, COVID-19 has complicated the back-to-school experience.
To continue your smooth transition into the semester, The Oak Leaf staff prepared this guide with tips for the Petaluma campus. Check out the Santa Rosa and online-classes guide here.
Getting Started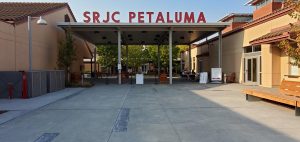 You can set up an appointment with the Welcome and Connect Center in person or online for peer coaching and other assistance services. A counselor can help you set up your academic plan and find classes.

Student Success Coaches and Peer Coaches will help you navigate the various resources and services that the campus can offer in order to help develop your academic goals. If you need assistive technology, submit a request to SRJC Library Curbside Services and they can set you up with a recorder, calculator, hotspot or Zoom backdrop.
Q: What about COVID-19?
Students will have until Oct. 15 to verify with SRJC that they are vaccinated, or be subjected to weekly tests. Starting Jan. 1, vaccines will be mandatory. There are two check-in stations, one by the Carole L. Ellis building, the other at the Welcome Center. You can schedule a free vaccination or COVID test here. 
SRJC's Fall 2021 COVID-19 guidelines are available in English and Spanish and may be updated at any time. More information on SRJC's coronavirus response, including in-depth plans and FAQs, can be found on the coronavirus information website.
Q: Do I need to be vaccinated?
You are not required to get vaccinated, but it is highly recommended. You can get a free vaccine on campus.
Q: Do I need to wear a mask?
All students must wear masks indoors regardless of whether you've been vaccinated.
You do not need to wear a mask outdoors if you are vaccinated. If you are unvaccinated, the SRJC Plan for a Safe Return to Campus recommends you wear a mask if you cannot maintain six feet of social distance outside.
Q: Why do I need to check-in to buildings on campus?
Checking in allows SRJC to contact you and anyone else who may have been exposed to COVID-19 if someone in the building you entered tests positive.
Everyone must complete a COVID-19 self-check before arriving on campus and check-in when entering a building. You can check-in at a table with a campus safety monitor or by scanning a QR code with the MySRJC App.
Q: Where can I find something to eat?
The Welcome & Connect Center hosts a food pantry from 9 a.m. to 2 p.m. Monday to Friday. They have grab 'n' go meals and snacks like granola bars and mac 'n' cheese cups. Students will need to make an appointment here and show their student ID.
The bookstore also has snacks and drinks available for purchase.
Q: Where is everything?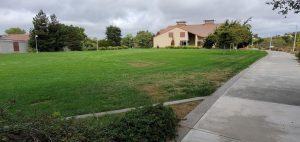 Getting around the Petaluma campus is much more easier than Santa Rosa, since there isn't any construction in Petaluma. You can access a campus map here: https://petaluma.santarosa.edu/maps-directions

There is also an open study space field with a food garden past the library, down the sidewalk on the right-hand side, toward the gym.
Q: When are the library and bookstore open?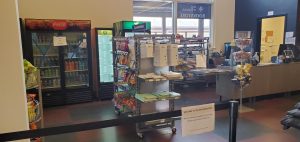 The library is open for curbside pickup 2 p.m. to 6 p.m. Monday, 8 a.m. to noon Wednesday, and 10 a.m. to 2 p.m. Saturday.
The bookstore is open from 9 a.m. to 5 p.m. Monday-Thursday and 9 a.m. to 4 p.m. Friday. 
Student Health Services and EOPS
Student Health Services counseling services require an appointment. You can set one up at https://counseling.santarosa.edu/ or by phone at (707) 527-4451 for Santa Rosa and (707) 778-3914 for Petaluma.
Disability resources
The Petaluma campus provides disability resources and Extended Opportunity Programs and Services (EOPS) for students. Due to the pandemic, the EOPS office is closed, however there is limited in-person support from 8 p.m. to 5 p.m. Monday through Friday on-campus, and staff are working remotely. You can call (707) 527-4383 or email [email protected] to schedule an appointment.
Reference the original guide for more details on disability resources.
Financial aid and other student services
Reference the original guide for details on how to access financial aid and other student services including parking, transcript requests, transfer counseling, Student Government Assembly and sports schedules.