SGA approves resolution supporting student participation in faculty hiring committees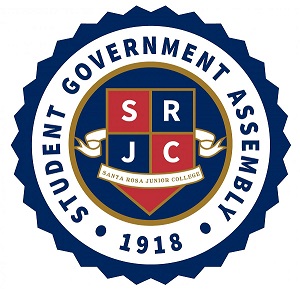 Santa Rosa Junior College's Student Government Assembly approved a resolution supporting students' presence on faculty hiring committees and appointed a new officer and new honorary member at its Sept. 27 virtual meeting.
The resolution, penned in response to SRJC faculty and staff not proportionately representing "its diverse student body," requests the Academic Senate approve, and SRJC mandate, the "full and permanent participation of students on all faculty hiring committees." SGA President Delashay Carmona Benson will present the resolution to the Academic Senate at its next meeting at 3:15 p.m. on Oct. 6.
The resolution cites the Academic Senate for California Community Colleges' 2018 Hiring Paper, which says "candidates that can best serve the diverse needs of students are more likely to be selected"; Title V Education Code Section 51023.7, which guarantees students' input on policies and procedures that have a significant effect on all students; and the Office of Student Life, Equity, and Engagements' agreement to provide additional support and extensive training to students on hiring committees through their Public Service Fellowship.
Carmona Benson urged SGA members to attend the meeting, and said it was time for SGA members to step up and represent their fellow students.
During the appointments and removals portion of the agenda, Michael Vu was appointed to the role of Santa Rosa vice president of student life, and Matti Cottrell was appointed to the honorary role of assembly member of LGBTQIA2S+ identified students. At Carmona Benson's suggestion, Cottrell added "2S" to the title of their position in reference to the nonbinary Native American gender identity "two-spirit."
After her Vaccine Week event on the Santa Rosa campus last week, Vice President of Student Health Waad Dafalla is working to bring Vaccine Week to SRJC Petaluma, the Windsor Public Safety Center and the Southwest Center.
In her report, Dafalla also advocated for opening SRJC's libraries, gym and cafeteria for students who commute long hours to SRJC and for overall student health.
"I want our gyms to be open to all students," Dafalla said. "[And] we need healthy food on campus. All the students are getting fast food instead of eating healthy."
Student Government Programs Coordinator Zack Miranda said Dean of Libraries Mary-Catherine Oxford will visit SGA's next meeting Oct. 4 to discuss opening the library and the library services students require.
Carmona Benson said she's asked in the past about opening the gym and learned that insurance is a big hurdle; however, she will continue to work on reopening the gym for students.
Petaluma Vice President of Clubs Elizabeth Cole reported that while SRJC Petaluma currently only has one club, she is looking for advisers for four Petaluma clubs: Mixing Club, Black and Brown Union, West Indies Club and a Woman's Association Club.
Vice President of Sustainability Andres Jojoa presented a roadmap for his Sustainability Club's upcoming campus projects, including a garden for butterflies and pollinators; vegetable planters and fruit trees; a bike-to-school program and an outdoor piano for students to play.
Jojoa said he can obtain an outdoor piano for students in the next two months, and SRJC's art department is interested in painting the piano.
During public comment, Cottrell promoted Student Health Services and PEERS's upcoming Well-Being Wednesday event to be held at 5 p.m. on Oct. 6 on Zoom, adding that more information was to come.
SGA also approved up to $1,000 in funding to send up to five SGA members to the SSCCC Professional Development and Leadership Training Event that takes place online in October.