More calls for racial justice on campus at SGA meeting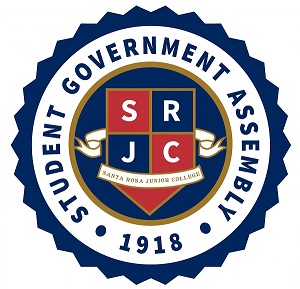 Santa Rosa Junior College Student Government Assembly invited speakers to discuss the May 5 racial justice walkout, appointed members to hiring committees, discussed next year's budget and shared their vision for 2021-22 at Monday's Zoom meeting.
The Black Leadership Association Collective (BLAC) is holding a "BlackOut" this Wednesday to protest SRJC leadership's lack of action and failure to truly listen after a year of making demands for racial equality.
"Given the blatant disregard of our voices, and the inaction on the part of SRJC leaders, it is apparent that we are not valued and SRJC needs a culture shift," the group wrote in a statement. "It's time for the actions of SRJC leadership to align with their words."
Students, faculty and staff are invited to protest in-person or online. Participants will meet 3:15 p.m. Wednesday on SRJC's front lawn by the corner of Mendocino and Elliott Avenues. Those wanting to participate virtually can attend the 3:15 p.m. Academic Senate Zoom meeting and set their background to a black graphic that reads "Black Out."
Contact Regina Mahiri or George Sellu for more information about the BlackOut.
SGA appointed two of its members to hiring committees. Anetra McCartney, a health sciences major, will represent students on the hiring committee for health sciences dean. Abrea Tillman, Santa Rosa vice president of marketing, will be part of the director of associate nursing degree program hiring committee.
SGA members unanimously approved funding for a coordinator of student engagement programs on the Petaluma campus. The estimated $47,797 salaried position will support programs like Student Life, Petaluma Student Council, the new Petaluma welcome center and ambassador program. Petaluma Director of Student Engagement and Support Services Michelle Viduarri said her goal is to have the position filled in time to welcome students for Fall 2021.
Many SGA members were excited to see plans for this position moving forward.
"I believe that this would be best for the students because I know without good leadership a lot of people crumble and fall," said Santa Rosa Vice President of Student Life Athena Weathers. "Throughout this past year in the [coronavirus] world, even though we as SGA have strong leadership, we need a stronger backbone to our student leadership for Petaluma."
SGA's proposed $433,703 budget for the 2021-2022 school year is set for a vote May 10. The budget is less than years prior to COVID-19, given the limited club activity and conference travel estimated during remote instruction.
With only a few weeks left in the semester, the SGA welcomed new members and continuing officers shared their visions for the future.
"My plans for next year are to try to use my voice in areas where other students' voices aren't heard and just try to get more students to come to me with their opinions so I am speaking for everyone," said McCartney, who was just elected student trustee.
Re-elected Student Body President Delashay Carmona Benson said she wants to focus on action next year.
"This year I spent a lot of time in meetings and on committees and task forces, just really putting our voice out there and wanting to make the campus more inclusive," Benson said. "We've done a lot of talking this year and next year I'd like to actually see everything come through and put into action."
May is Mental Health Month. Check out these Zoom events to check in with your mental health:
The Many Faces of Mental Health, 4–6 p.m. May 6. This panel will include SRJC staff representing the Asian American/Pacific Islander, Latinx, Native American, Black, African American and LGBTQ communities. The panel is presented by SRJC students from PEERS.

Well-Being Wednesday, 11 a.m. to noon May 12, presented by PEERS.

Transferring and Mental Health, 11 a.m. to noon May 11, presented by PEERS and the Transfer Center.

The meeting will be hosted by a PEERS student transferring this fall. Student Trustee and PEERS Jocelyn Toscano said that therapy is recommended for major life transitions like divorce, having a child or moving, but that transferring schools is often overlooked as a milestone that warrants mental health support.
Zoom links for these and other upcoming events can be found on the BearFacts eNewsletter.