SGA student election results are in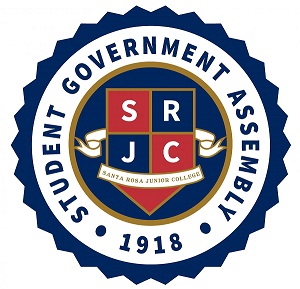 Student Government Programs Coordinator Zack Miranda announced results from last week's Student Government Assembly elections and the student body president previewed a unity event to close out a challenging school year at Monday's SGA Zoom meeting.
Several SGA incumbents, including Student Body President Delashay Carmona Benson, recently appointed Executive Vice President of Legislation Ally Lubas and Santa Rosa Vice President of Marketing Abrea Shavaun Tillman were re-elected to office.
Petaluma Vice President of Student Life Brandon J. Repp will move to Petaluma vice president of clubs and incumbent Anetra McCartney will be student trustee.
Newly elected members include Moses Legesse as vice president of finance, Jessica Camberos as Santa Rosa vice president of clubs, Patrick Sunkyebe as Santa Rosa vice president of student life, Elizabeth Cole as Petaluma vice president of student life and Andres Jojoa as vice president of sustainability. Check out the candidate brochure to learn about the newly elected representatives.
Three SGA positions remain vacant: Petaluma vice president of marketing, vice president of diversity and vice president of student health. Students interested in these positions can attend the first SGA meeting of Fall 2021 and ask to be appointed. Students must be enrolled in at least 5 units for fall and spring and have a cumulative 2.0 GPA, said Miranda.
According to Miranda, 290 ballots were cast in this election. SRJC's Office of Institutional Research Student Headcount data show that 15,379 students are enrolled for Spring 2021, meaning just 1.89% of the student population participated in the SGA election.
The election was successful given the remote school environment. Miranda cited the 325 ballots cast in the 2014 election to show turnout can be low even when students are on campus doing voter outreach.
Acknowledging the hard year it has been for many reasons — the pandemic, remote learning, racial unrest — Benson proposed a unity walk to bring students, faculty, staff and the community together. 
"It's a time for unity," Benson said. "It's a time for all of us to come together and not so much as march, but walk. Let's walk hand-in-hand, peacefully, and just come together."
If approved, the event will be May 15 and details will be planned at next week's SGA Zoom meeting. The SRJC President's Cabinet should discuss the event proposal by the end of this week.
Benson wants to invite students from all SRJC campuses, clubs and groups to attend the walk, as well as elected officials from the City of Santa Rosa. This will also be a chance for graduating students to celebrate by wearing caps and gowns and for cadets to wear their uniforms.
"We are SRJC strong, we are Santa Rosa strong, we are Sonoma County strong," Benson said.