SGA highlights mental health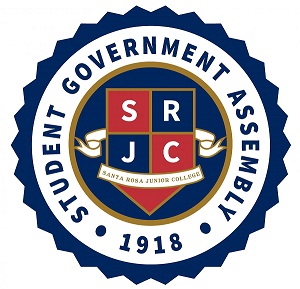 Santa Rosa Junior College Student Government Assembly introduced diverse new therapists from Student Health Services (SHS), appointed an executive vice president of legislation and approved a letter supporting marginalized students at Monday's Zoom meeting.
"I really want to push mental health. It is so important," said Student Body President Delashay Carmona Benson. "I think [therapy] should be a must for everyone. It doesn't cost you anything but your time and energy and it will be well worth it."
Students enrolled in credit courses can access mental health appointments for free, as SHS is funded by the Health Fee paid when registering for classes.
Two new therapists at SHS, Corey Timberlake and Nadine Henley, are available to help Black and African American students, while Brijida Christina Alemán is bilingual and specializes in helping Latinx and Native American students. Emily Chung is on staff to support students from the Asian American and Pacific Islander community. SHS also has therapists with expertise in working with LGBTQ students, according to Mental Health Program Manager Bert Epstein.
"We didn't want anyone to feel left out," Epstein said.
When Benson brought up student concerns about opening up to new therapists in temporary positions and losing services over summer, Senior Dean of Students Robert Ethington committed to continued mental health services.
"I will commit to finding the money to keep our Latinx, Black and African American therapists here. We're gonna take care of that," Ethington said. "I'm hearing loud and clear what you're saying about continuity and building relationships as the foundation for any work we do with students."
Mental health appointments can be scheduled online or by calling (707) 527-4445. 
SGA members voted unanimously to appoint Petaluma Vice President of Marketing Ally Lubas to the vacant position of executive vice president of legislation. Lubas said she wants to work on legislation that protects students' privacy around online classes and reform SGA bylaws.
SGA members also unanimously approved a letter to address all marginalized students on campus in recognition of the hardships faced by diverse communities. The letter was originally intended to specifically address the Asian American and Pacific Islander student community.
"I think it's a really good show of community and unity," said Petaluma Vice President of Clubs Anetra McCartney. "This is a very compassionate letter to acknowledge what is going on for certain communities and also support other minority groups." 
Upcoming Events:
Vote for next school year's

SGA candidates

April 12–16. Access your ballot online via the student portal.

Earth Week

starts next week, featuring low-carbon meal inspiration for Meatless Monday, upcycled fashions for the Trashion Show Thursday and direct actions like post card writing and banner drops Friday.

The last food distribution of the semester is 9–11 a.m. May 3 in the Emeritus Parking Lot at the Santa Rosa campus.
See the latest SRJC BearFacts eNewsletter for more events.