The Oak Leaf wins 16 awards for 2020 work
The Oak Leaf won 14 state awards and two national awards, including first place in two publication categories and two on-the-spot contests at the Connect2021 Spring National College Media Convention March 18–20.
"Competing in on-the-spot competitions over Zoom provided new challenges this year, but our six awards, including two first places, show The Oak Leaf was not only able to adapt but excel at the task," Adviser Anne Belden said.
The virtual conference was held in coalition with the Journalism Association of Community Colleges (JACC), Associated Collegiate Press (ACP) and several other college journalism organizations.
The Oak Leaf is one of 17 newsrooms that received the Online General Excellence award, which goes to the whole staff in recognition of articles, photos, videos, social media posts and podcasts published in the last three semesters.
"I'm so proud of the staff," Belden said. "They achieved the coveted Online General Excellence award while navigating the pandemic, racial and political strife, bad air quality days and two massive wildfires in which some students had to evacuate from their homes. They persevered and managed to both produce compelling content and grow as journalists in the process."
After one of the most turbulent semesters in recent memory, The Oak Leaf is proud to bring these awards home to Santa Rosa Junior College.
"We've been working really hard in the newsroom, so winning these awards feels really validating," Co-Editor-in-Chief Alex Fuller said. "Earning a first place award with my co-editor-in-chief was a thrilling bonus."
ACP Awards (national):
COVID-19 Reporting, 10th place: Maritza Camacho and Emma Molloy, "Maskholes: Working in grocery stores during coronavirus"
Election Reporting, 8th place: Lilia Epstein, "Election reflection: SRJC students weigh in on Biden, division and two-party fatigue"
JACC Awards (state-wide):
Opinion (on-the-spot), 4th place: Michael Combs
Feature (on-the-spot), Honorable Mention: Emma Molloy
Feature (on-the-spot), 1st place: Lauren A. Spates, "High school seniors with unwanted wisdom: The takeaway from "Last Days at Paradise High""
Copy Editing (on-the-spot), Honorable Mention: Alex Fuller
Copy Editing (on-the-spot), 2nd place: James Domizio
Critical Review (on-the-spot), 1st place: James Domizio, ""Last Days at Paradise High": Wildfire trauma meets high school drama"
Enterprise News Story/Series, Meritorious Award: The Oak Leaf Staff
Editorial, 1st place: James Domizio and Alex Fuller, "The Oak Leaf endorses Bañuelos and Martinez for Board of Trustees, Rego close third"
Opinion, Honorable Mention: Luke Morrow, "Checked out: My struggles and sacrifices as a front-line worker"
Opinion, 3rd place: Priscilla Navas, "Working in a psych facility during a pandemic"
News Photo, 4th place: Nick Vides
Environmental Portrait, 1st place: Sarah Montano
Webcast/Broadcast News, Honorable Mention: Michael Combs, "Pomo Canyon Trail: A Sonoma County scenic sampler"
General Excellent, Online Edition: The Oak Leaf Staff, theoakleafnews.com
About the Writer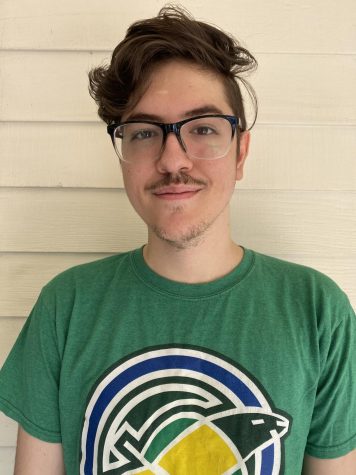 James Domizio, Editor-in-Chief
James Domizio is in his fourth semester at The Oak Leaf, where he serves dual roles as editor-in-chief and arts & entertainment editor. James transferred...