Campus construction: What SRJC students have missed since last March
Santa Rosa Junior College students will be shocked when they return to campus after more than a year away.
Every JC campus is undergoing a makeover of varying degrees, with some Santa Rosa campus buildings demolished, some Petaluma classrooms renovated and multiple changes made to Shone Farm.
The Santa Rosa campus improvements fall into three major plans: the Kinesiology and Movement Project (KEM); the Science, Technology, Engineering and Math Project (STEM); and the Central Plant Plan, which relates to the campus's utilities. 
According to Senior Director of Capital Projects Serafin Fernandez, the KEM Project is currently underway and will take 12-15 months to complete.
"The KEM project is the construction being done to the fields," he said. "There will be a new fieldhouse and new swimming pool. The fieldhouse, Bayfield, will soon have locker rooms and offices for coaches on a second floor."
The few students who are still taking classes on campus can already see the construction occurring on Bayfield, unlike the Central Plant Plan, which requires a peek underground to see progress.
"The Central Plant Plan will provide reclaimed water and use the unused water to run some of the systems in other buildings instead of a lot of electrical use," Fernandez said. "It requires a lot of trenching, for example, from the Central Plant to the STEM building."
The Central Plant Plan is scheduled to be completed by Summer 2021.
Like the KEM Project, the STEM Project has resulted in major visible changes to the Santa Rosa campus.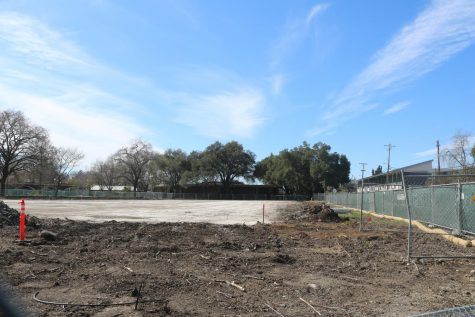 Shuhaw Hall, which housed the mathematics, physics and engineering departments, was demolished to make way for the new Lindley Center for STEM education. If students visited campus today, they'd see a huge open lot where Shuhaw once stood. Those departments' classes and instructors moved into the newly constructed Jeff Kunde Hall, while their labs are being held in Lark Hall.
As the Lindley Center is completed, the math, physics and engineering labs will transition to Lindley, as will the chemistry classrooms and labs, making way for Bech Hall's demolition.
STEM Dean Dr. Victor K. Tam is looking forward to the renovated space.
"In the Lindley Center, labs for all programs will have been upgraded and expanded with a strong focus on hands-on learning and collaboration," Tam said.
He pointed out that the Lindley Center is not the only science-related space to see improvements, though. "Separately, Baker Hall will be undergoing lab renovations later this spring, and the mechatronics program had a stockroom renovation in Bussman Hall," he said.
In addition to the three major projects in action on the Santa Rosa campus, smaller projects are being finished up in Pioneer Hall and in Doyle Library where technology is being updated.
Fernandez was quick to mention the ongoing construction is not the end of campus improvements.
"Future renovations are also being discussed and planned to improve Garcia Hall, Tauzer Gym and the Analy Village," he said.
The Petaluma campus is also experiencing renovations to improve multiple classrooms with features like new clear board panels that instructors can write similar to a whiteboard.
As for Shone Farm, Fernandez said construction activity there includes the expansion of materials for students working on the farm such as new classrooms, labs, and produce-processing space.
All of these projects — from Santa Rosa to Petaluma to Shone Farm —  have flourished and stayed on deadline due to the COVID-19 restrictions that kept students off-campus and out of the way.
If construction continues when students are back on campus, "all construction will be restricted to behind fence lines, keeping students safe," Fernandez said.
The SRJC Board of Trustees approved each of these projects after an extensive bid process, and the board must approve any and all changes.
"These projects are mostly funded by Measure H funds, [which was] provided by taxpayers of Sonoma County," Fernandez said. Measure H was a ballot measure that granted the junior college district a $410 million bond for campus improvement.
Planning and construction will continue as the year progresses, and multiple walkthroughs of the campus are being made by the capital projects team to ensure SRJC has updated technology and equipment available for all students.