Professor, award winning author speaks at "We the Future Social Justice Conference"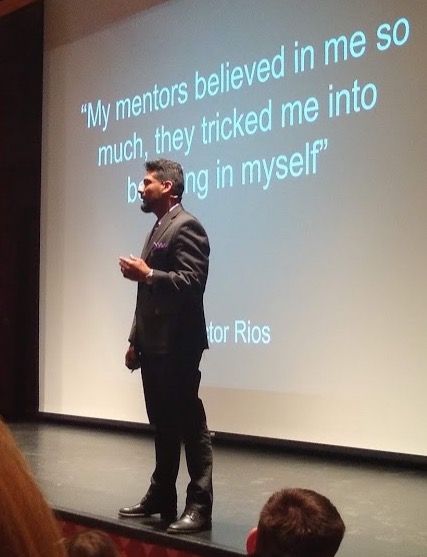 Students piled into Carole L. Ellis Auditorium to listen to UC Santa Barbara professor Dr. Victor Rios, a professor and award winning author, discuss Latinx students and community involvement issues during a daylong social justice conference April 12 on the Petaluma campus of Santa Rosa Junior College.
All 257 seats filled up before Rios took the stage at 11 a.m. Those who weren't fortunate enough to get a seat were directed to overflow classrooms to watch a livestream of the event.
Emmanuel Ortiz-Lopez, 19, a member of the student success team who volunteered to help with the event, said. "The sociology teachers here really like to teach using his books and he's well known for his documentary 'The Pushouts. It's been shown on campus here a few times, and I appreciate how it depicts the obstacles Latinx students struggle to overcome."
SRJC sociology teacher John Stover introduced Rios.
"He's published five books, 26 articles, won 20 awards in teaching and mentoring and raised over half a million dollars in grant money since 2001. He's a rockstar sociologist whose work is to change the world for the better," Stover said.
Rios began his lecture with the words, "You're all really brave. Taking on social justice in these times and having a discussion is a huge step."
However, Rios made the audience consider: what does social justice actually mean? When it comes to issues of capitalism, patriarchy, and global homophobia how does someone have impact? Especially as college students, what can we do to take our knowledge of these systems and turn that into action?
It's not just tolerating, that's for sure. To Rios, coexisting with others is the first step. "It's about embracing and accepting each other's differences," he said. "We must understand why society has created categories for each other that result in treating others as less than human. I want social justice to apply to all of us."
It needs to be deeper than just saying you're "woke" too.
"Don't just say it. Be it. Break down what it means on a daily basis, be 'woke' and speak up when you see something wrong," Rios said.
In other words, learning about these systems of oppression and having a discussion is only the first step. Rios emphasized how we should come together as a community and do something about it.
One of the ways to accomplish this is to acknowledge what's referred to as "Border Thinking", —  to use the knowledge of the oppressed to help on a global level and change society, rather than simply disregarding it.
Rios also believes mentoring is one of the best ways to enact social change.
Rios's perspective was shaped by the challenges he and his family overcame in order to survive. His mother worked tirelessly to give their family a better life and when he was two, she was able to sneak them across the border. However, the land of opportunity wasn't all it seemed to be.
His mother's employer exploited her under threats of deportation, and they found themselves unable to advance economically or gain an education.
"The situation got so bad that one day, my little cousin, who was two months old…he was sleeping in his crib, and we had big rats in the apartment, and while everyone was sleeping, they crawled into his crib and chewed his face up," Rios said.
"That's when I said to myself, 'I don't want to be poor. I don't want to live this.'" So, he dropped out of eighth grade to get a job but ended up turning to the streets to steal cars and make ends meet, eventually joining a gang.
But when rival gang members shot his friend, he bottomed out with no one to help him. His mother was too busy, and society had labeled him "criminal" and "at-risk."
But he was given a second chance.
Luckily, he was able to turn to his high school teacher Ms. Russ to talk, however because she was white and so different from him that she could never relate to his struggles. But she connected him with a Latino college student mentor who he could rely on too. Both who viewed him as an asset, rather than at-risk and after establishing that emotional connection with them he found the motivation to continue his education for himself and everyone in his life.
It was a struggle getting his degree, but he earned his BA from CSU East Bay, moving on to earn his doctorate at UC Berkeley.
That is an example of the power a mentor can have.
"As we consider moving forward with our education careers, we consider volunteering to be there for people," Rios said.
Being a mentor is a great way to do both and enact social change through the impact you can have on your students.
"When you project for others a future, they might not have imagined for themselves, it creates an amazing world of opportunities," he said. "My mentors believed in me so much they tricked me into believing in myself."
"I saw 'The Pushouts' before, and it was cool to hear someone from my culture overcome the struggles he did and reach success. The whole thing was very inspiring," said community member Cesar Ramirez, 21.