Camp Fire smoke affects students' health, education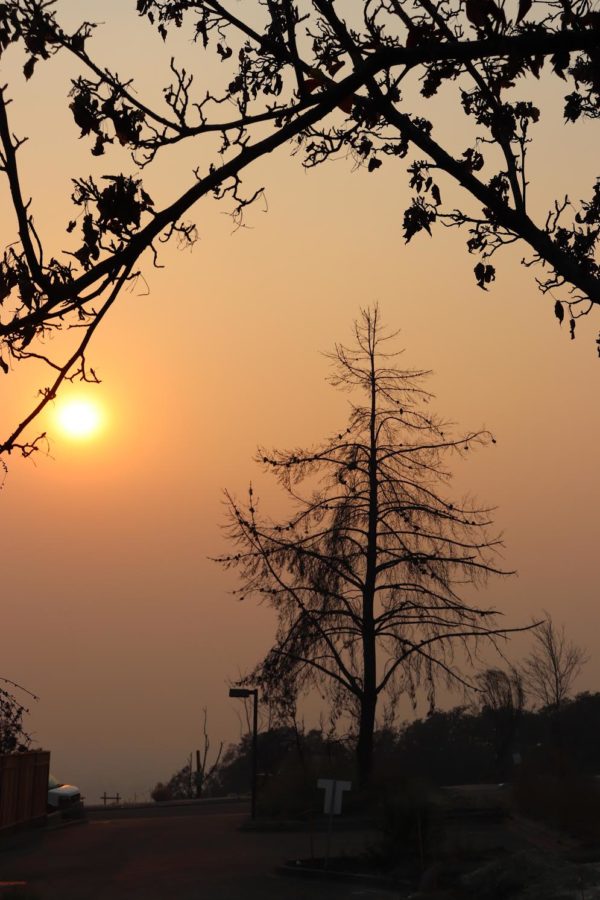 Kate Tornai, contributing writer
November 15, 2018
Santa Rosa Junior College students have suffered headaches, nausea, fatigue, nosebleeds, asthma attacks and even PTSD over the past week due to smoke from the Camp Fire in Butte County. Campus closures have also led to students get behind on lectures and assignments and miss out on practice time in music, athletics and other endeavors.
The Camp Fire has killed 56 people and burned 140,000 acres to date near the town of Paradise, California, some 160 miles away.
On Nov. 8, at 4:52 pm, Santa Rosa Junior College officials sent an email and text message to students cancelling classes for the remainder of the day due to poor air quality. Over the next few days, officials continued to update students and staff about when classes would resume, including one email Nov. 12 stating that campus would reopen the next day. This was rescinded five hours later because the EPA's Air Quality Index predicted  air pollution concentration levels greater than 275 for Santa Rosa. The college officially reopened Nov. 14, when Air Quality Index (AQI) levels fell to a safer, but still unhealthy level. All outdoor activities and events are still cancelled.
Erin Bricker, director of SRJC district and community relations, said the decision to reopen the college was based on guidelines the Sonoma County Office of Education provided. Following air quality protocol based on EPA and CDC guidelines, SRJC determined that it was safe to reopen campus if the AQI fell below 275. According to purpleair.com, the AQI level was 173 yesterday at 5:30 a.m., when a campus-wide email was sent out.
Smoke from the Camp Fire has affected both students' health and education.
SRJC student Nathan Jarrell drove to his biology class at the Petaluma campus last Thursday, only to be told that the campus was shutting down. "I'm disappointed that I'm missing my classes; I really enjoy learning. But I also understand that the air is unhealthy, so I'm not going to expect teachers and other students to be outside either," Jarrell said.
Andre Dews, an SRJC journalism student, said the smoky air made existing health issues worse. "I have asthma and I ended up catching a flu bug, so I have bronchitis as well," Dews said. His CPAP machine, which he uses when he sleeps, is the only thing giving him some relief.
While there haven't been any cases of students needing to go to the hospital, some have been seen by medical staff in the SRJC Student Health Center. Katie Borges, a nurse practitioner there, said "A lot of the symptoms can be shortness of breath, tightness in your chest, sore throat, cough, even like coughing up sputum. If anyone's experiencing that, they should definitely come in and get checked out, at least until they can get to their primary care doctor."
Dejah Gonzalez, a student health aid, said about 30 people a day have been coming to the Race building asking for masks, and the first day that school reopened, they ran out. The N95 children's masks are even harder to find, and while they're available on Amazon, hospitals in the area don't have them available to the public.
Ellie Fouchè, an SRJC music student, was unable to access the double bass since it is kept in Forsyth Hall. In addition to keeping instruments for students, there are also piano and drum practice rooms that are only accessible during school hours. "Because of the school closure, I wasn't able to practice, so I fell a bit behind on rehearing the orchestra piece and symphonic band pieces that we'll be playing at the Dec. 8 concert," Fouchè said.
A victim of both the Lake County and Santa Rosa fires, Fouchè is no stranger to smoke or evacuations. "My life has been shaped by fire," Fouchè said, noting that this past week's smoke "brought back some pretty intense memories."
SRJC journalism student Lauren Spates, 34, said the bad air quality has affected her both physically and psychologically. While nosebleeds are a symptom of pregnancy, hers have been more intense than normal; Thursday morning, she had to turn around and change her clothes because the bleeding was so profuse.
Psychologically, she worries about the impact of the smoke on her unborn child. "I made the mistake of going online and researching the effects of particulate matter on pregnancy and it scared me; one of the effects is an increased chance of pre-term labor and another is decreased birth weight," Spates said. "I'm really trying to stay out of the smoke."
The Camp Fire may have also triggered PTSD for students dealing with trauma from last year's fires.  SRJC's Student Psychological Services offers drop-in counseling appointments Monday through Thursday at 2 p.m. and Fridays at 11 a.m. in Santa Rosa and at 2 p.m. Mondays and Wednesdays on the Petaluma campus.
 A therapist students can reach out to is counselor Brian Chetcuti. "We offer counseling for anything, but if someone comes in specifically because of the fires, we can talk about that too," he said. "If anyone is being triggered or if they have anyone affected by the fire, we recommend they come in for a drop-in counseling appointment."
According to emails sent out by the college, N95 masks are available at locations across all campuses as listed below.
Santa Rosa Campus:
Bertolini Student Information Desk

Race Hall, Room 4017

Plover Hall, Room 559

District Police, Pedroncelli Center

Environmental Health & Safety House, 1808 Albany Ave.

Doyle Library, second-floor lobby
Petaluma Campus:
Call Building, Student Life Office, Room PC 608

Mahoney Library Front Desk
Masks are also available at the:
Southwest Center main office

Public Safety Training Center administration building

Shone Farm, Beldon Center