Trustee candidates court SGA endorsement: Two incumbents, one newcomer vie for open seats on SRJC board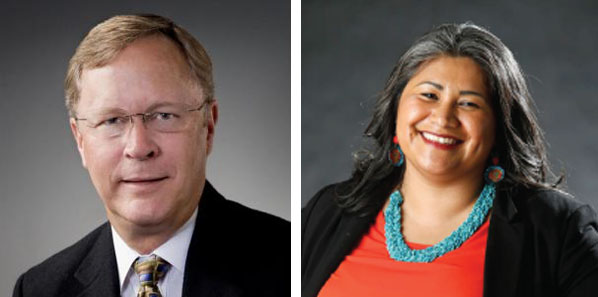 Two Santa Rosa Junior College Board of Trustees seats are up for grabs Nov. 8 as part of the national general election. Three candidates, incumbents Richard Call and Don Edgar and educator Mariana Martinez are vying for two open seats to represent Districts 3-4-5, which covers Santa Rosa, Cotati and Rohnert Park. Call and Martinez spoke with the Student Government Assembly Sept. 12. Edgar did not attend.
Call has been a member of the SRJC Board of Trustees for 24 years. He was a board president and past chair of the finance and facilities committee. He oversaw the search process for a new college president in 2011, and was involved in the Measure H bond and the Doyle scholarship committee.
Call was chairman of the Bear Cub Athletic Trust and a member of the SRJC Sports Hall of Fame committee. He is also the president of two local businesses, Santa Rosa Auto Parts and Power Industries.
Call is a fifth generation Sonoma County native and graduated from SRJC in 1969. He has been involved in volunteer work with the 20/30 Club, Rotary and Goodwill Industries.
"I love this place," Call said. "I love the history and I care deeply about it."
Mariana Martinez is a first generation high school and college graduate. She immigrated to the U.S. when she was 8 years old and she moved to Santa Rosa at 12 years old.
Martinez's connection to SRJC began in college when she worked with the migrant education program and became an academic advisor and a teacher's assistant in the summer Adelante program. She worked in the financial aid office and became an outreach advisor in the Upward Bound program at Sonoma State University.
Martinez earned a master's degree in education, curriculum and instruction at the University of Pacific, worked at UC Irvine with first generation students of color, and obtained a doctorate degree from University of Illinois at Urbana-Champaign in May 2016.
Call says it's important to understand the role of a trustee.
"The only authority I have is during a meeting, and a quorum," he said. "You can influence, but what you are is a judge and a jury. You approve or not."
Martinez said she wants to focus on retention and transfer rates, noting students have a hard time living a balanced life and staying focused in school.
"Affordable housing is a priority," she says. "It is tied to health."
Call believes the issue with homelessness is a community problem that involves Sonoma County and SRJC being unable to build housing.
"There are some organizations willing to fund it," he said, however he believes the college can't accomplish the task.
Martinez emphasized the role she can play in advocating for undocumented students.
"We need to educate ourselves in what it means to be undocumented in higher education," she said. "My priority would be to educate our board on it."
Call supports the Dream Center on the SRJC campus and the right for students to use it.
"We have an issue with freedom of speech," he said. "We need to make sure people are allowed to say anything."
Call wants to ensure undocumented students aren't deprived of the right to access the support they need.
Martinez promises even if she's not elected, she will continue as a member of the Puente organization and keep prioritizing student access to college. Call emphasized he takes his job very seriously, and he will always remain involved with SRJC through the foundation.
"I feel very honored to run for this position and represent all the voices of people who have helped," Martinez remarked at the end of the meeting. "I'm a woman, a person of color, a mother and an immigrant."
Call brought up the issue of declining student enrollment, and the necessity of making huge cuts in years to come. He also mentioned his involvement with the scholarship and hiring committees. He closed his final remarks by saying, "I get involved."