SRJC students and community celebrate Chinese New Year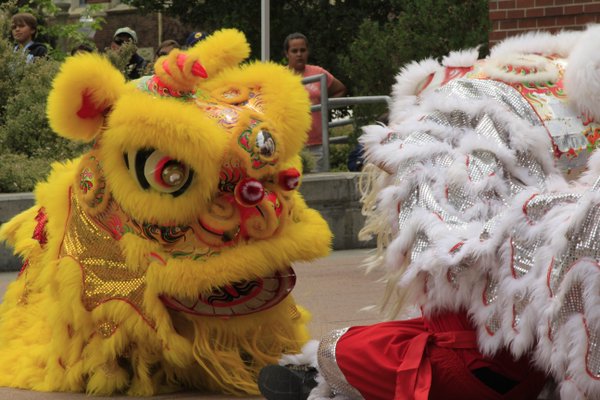 Santa Rosa Junior College students and community gathered in front of the quad to celebrate the Lunar Chinese New Year, with performances from Redwood Empire Chinese Association and Wu Academy, Feb. 10.
The Lunar Chinese New Year is a 4,714-year-old tradition celebrating the annual transition from one of the 12 Chinese zodiac signs to the next, said Nancy Wang, president of Redwood Empire Chinese Association.
Members of Redwood Empire Chinese Association preformed a Mongolian lion dance (a two person dragon) and a traditional Uyghur dance in which one man and woman wearing colorful attire twirled and clapped in-sync.
Justin Eggert teaches Chen style Tai Chi at SRJC and is the founder of Wu Academy on Mendocino Ave in Santa Rosa. Members of Wu Academy demonstrated their training with different types of swords and staffs as well as a array of graceful kicks and punches, mainly of traditional northern Shaolin style Kung Fu, Eggert said.
Martial arts is an essential part of Chinese culture, being the national sport, Eggert said. In ancient Chinese culture, a well-versed person should study the paths of the scholar, the warrior and the poet.
SRJC theatre major Dani Banales said the "ambiance was very chill," and that the skill displayed by performers was inspiring.
2016 is the Year of the Monkey and people born on monkey years are known to be a handful but bright and smart like monkeys, Wang said. Another Year of the Monkey won't come around for another 12 years.
Past monkey years are 2004, 1992, 1980, 1968, 1956 and so on subtracting 12.