Texting during terror: French SRJC student live-texts friend at center of terrorist attacks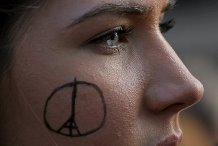 As the attacks unfolded in Paris on Nov. 13, Santa Rosa Junior College student Robin Escouboué, 21, experienced the terror in real time as he texted his Parisian friend who was running and hiding from terrorists.
While the French people slowly recover from the shock, Escouboué knows that Friday, Nov. 13 will always be carved in his mind.
Escouboué was texting through Facebook on his iPhone with one of his best friends, Gaëtan, who was trying to escape two street attacks. "I was hoping that nothing will happen to him and I was watching the news at the same time on CNN and I was watching the number of dead people. It was just increasing every minute," Escouboué said.
Escouboué first heard about the attacks after watching the soccer game between France and Germany. Reading the news, he then understood the meaning of the explosions he heard on TV. Two terrorists blew themselves up next to Stade de France. Escouboué immediately tried to reach his friends on Facebook. Most of them answered right away, but Gaëtan didn't.
Gaëtan answered 20 minutes later. He was in the attack in the 10th neighborhood. He had to hide. He was on his way back home.
"He sent us a text again and he told us he was in another attack and he was hiding in a bar," Escouboué said. "I told him to go to someone's apartment. In this case, you just don't care, you try to find people to help you." He eventually made it back home safely.
Last Monday, Escouboué returned to class, his mind plunged into mourning for the 130 people killed and 352 injured in the attacks. "The teacher didn't ask me any questions. He just let me alone in the class. He knew I was affected by this. I was pretty sad. I was not focused on my class," Ecouboué said.
Two days after the Islamic State in Iraq and the Levant attacked, President Barack Obama proclaimed: "They were an attack on all humanity and the universal values we share, including the bonds of Liberté, Egalité and Fraternité." He also ordered the flag of the United States "shall be flown at half-staff at the White House and upon all public buildings and grounds […] until sunset Nov. 19, 2015."
Escouboué received an email from an international student advisor to ask if he was OK. SRJC International Student Program Director Peg Saragina said, "Our international student advisor Kim Hunt sent an email to all of the students who are from France to express our concern and to let them know that we are here if they need any help from my office."
Despite this email, Escouboué deplored the lack of public support for France at SRJC. "We have a lot of international meetings in the school. They talk a lot about international students; that they are important, they are really part of the school and they didn't do anything about France when this happened. So, I felt pretty bad about it," Escouboué said. "They didn't put up any French flags. They didn't do any moment of silence for dead people."
Since the terrorist attacks on the newsroom of the magazine Charlie Hebdo and the kosher grocery store in January, Escouboué and his friends know it could happen again anytime, anywhere.