SRJC picks police chief nominee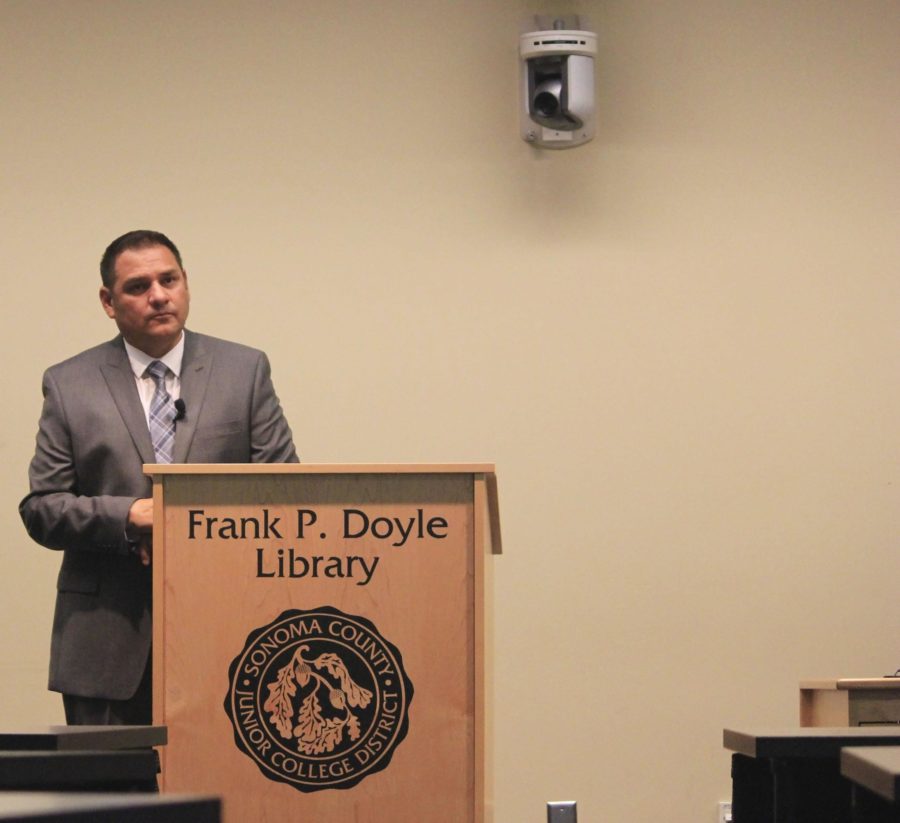 Following the recent departure of Matthew McCaffrey, Santa Rosa Junior College's district chief of police, SRJC has selected Lorenzo Dueñas as the final candidate for the position.
After McCaffrey left to work for the Novato Police Department, SRJC was left with the task of replacing him. Initially it chose Joe Palla, former interim police chief, to fill the position until information surfaced that changes in the California Public Employee Retirement System prohibited his return.
Doug Roberts, senior vice president of finance and administrative services, announced he would be in charge of the department. However Peace Officer Standards and Training (POST) rules state only a peace officer can act as interim police chief.
Sgt. Robert Brownlee has been interim police chief for the last five months while SRJC officials formed a committee to find a new chief. A job posting went out for the position and the college received applicants from all over the country. SRJC formed the committee with representatives from the board of trustees, administrators, classified union, Academic Senate and Student Government Assembly. The committee chair was Patie Wegman, dean of student conduct. 
"I volunteered because I have a lot of involvement with the district police," Wegman said.
The committee members first met in June to lay down the qualifications they were looking for in a new chief. These categories included overall experience, communications and management, understanding diversity and leadership crisis managing.
The candidates invited to come were given a written crisis scenario and had to draft their answer in 30 minutes. Next the committee interviewed the candidates.
According to Wegman, the interviews were comprised of 13 questions and took a total of 90 minutes.
The search committee chose Dueñas as the top candidate for the job.
"His communication skills were exceptional," Wegman said, who also praised his emphasis on diversity and locality. "We really wanted someone who stuck to our needs. He felt like a really good fit for what we needed."
Dueñas was in the Marine Corps before working as a police officer for 28 years, starting at the Sonoma County Sheriff's Office in 1989 and working his way up to Sheriff's Deputy.
"I'm not just credentials and a degree, I'm actually a person that grew up in your community," Dueñas said in a forum on Aug. 18. "The reason I got into law enforcement is solely because I truly wanted to help people. The bottom line is it's customer service. The campus and the students are our customers and we are supposed to be there for them."
Once the committee chose a candidate, it presented him to SRJC President Dr. Frank Chong who interviewed Dueñas himself.
"I was very impressed," Dr. Chong said. "He's a local product; very qualified."
Dr. Chong said usually hiring committees choose two or three candidates, but this time they only had one.
"He seems cool," said SRJC student President Joshua Pinaula. "He seems good for a college evironment."
According to Brownlee, SRJC is in the final processes of hiring Dueñas. An outside consultant is conducting an in-depth background check, which is expected to be finished by next week.
Following an approval of the background check, SRJC will offer Dueñas a conditional job offer. If he accepts, he will be required to have a psychological evaluation and then a medical exam at Kaiser Permanente before starting his role as police chief.
"I hope that he keeps his word about being out and about to be easily contacted by students," Pinaula said.
Dueñas declined to comment until the college makes the conditional job offer.
"I'm looking forward to having him join us," Dr. Chong said. "He'll usher us into a new era."