Making dreams come true: SRJC opens Dream Center for students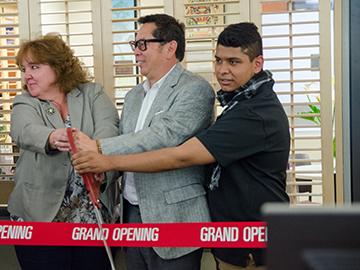 Undocumented students can now find understanding and assistance in furthering their education thanks to Santa Rosa Junior College taking a progressive step by opening up a Dream Center May 4 in Plover Hall.With a dedicated staff, the Dream Center will give new and continuing undocumented SRJC students with support and advice on how to navigate their educational opportunities.
"Dreamers have a safe place where they can access and get more information, not only about the college, but about the community resources as well," said SRJC President Dr. Frank Chong.
Jordan Panana Carbajal, current president of the DREAMers Club on the Petaluma campus, became involved with the club when it was established in 2014. The DREAMers Club initiated the idea of SRJC providing guidance to undocumented students in their pursuit of an education.
"We knew that there had to be a club that informed students, like myself, and future students at the JC about the resources the JC provides, but doesn't really tell students about," Carbajal said.
Hector Jimenez, president of the Santa Rosa campus DREAMers Club, said the Dream Center will benefit incoming and current students who are undocumented or on a temporary visa by providing them with resources and guidance.
The Dream Center will offer personalized help with students' Deferred Action for Childhood Arrivals (DACA) verification, the California DREAM Act, the AB540 affidavit and the overall enrollment process at the SRJC.
With an AB540 affidavit, an undocumented student meeting certain requirements shall be exempt from paying non-resident tuition at California universities and public colleges.
Students who fulfill the AB540 requirements will also be eligible for the California DREAM Act, which allows undocumented students to receive nonstate-funded scholarships as well as state-funded institutional grants and waivers.
Jimenez said the DREAMers Club assists undocumented students filing for financial aid and gives simple immigration advice.
"We as DREAMers Club provide students with what I would say is hope and encouragement," Jimenez said. "We let them know that there are opportunities to continue with their education regardless of legal status."
Rafael Vasquez, Extended Opportunity Programs & Services (EOPS) outreach specialist, supports students through counseling and supplying them with educational opportunities.
The club also assists Vasquez in easing educational financial burdens by helping undocumented students with their DACA renewals for free, according to Jimenez.
DACA allows certain people who came to the U.S. as children to be considered for a two-year period of deferred action, meaning they will not be deported.
"There's still more work to be done at the JC for undocumented students but this sure is a first concentrate step for students who are undocumented in this college," Carbajal said.
Eduardo Arango, treasurer of the Santa Rosa campus DREAMers Club, develops ways to fundraise for the club and keeps track of all the income expenses. Arango said the club hopes to create a scholarship for undocumented students.
Arango described his experiences with the club and the vibe of the members. "The energy that they bring and the unity that they have is just amazing," he said. "It's a great group of people."
Arango said he believes the Dream Center is a great step forward in expanding the DREAMers Club to other schools and collaborating with other diverse clubs on campus.
Culture-based SRJC clubs host multicultural dinners on campus. Arango said the purpose of the dinners is to get people together to talk about issues and causes that are important to them.
"Talking about the issues I think is the best way we can find solutions for problems," he said.